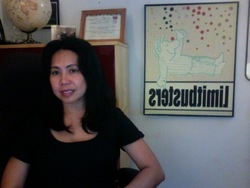 Carlyne Kohner

Sitges, Catalonia
Family Coach, ADD ADHD Coach, Life Coach
BA, MA, CPCC
I coach Parents, Teachers, EXPATS and AD/HD teenagers/adults.
Details

Sitges, Catalonia
Gender: Female
About Me
Hello, you can call me BING!
I coach Parents, Teachers, Expats and AD/HD teenagers/adults.
I work with parents and teachers to effectively communicate with your children and help you empower them to be healthy, creative and emotionally intelligent.
As an Expat, you have to learn a new language, culture, meet new people, etc. I work with Expats to navigate these seemingly overwhelming tasks and help you achieve success in your new country.
I work with AD/HD Adults/Teenagers to function effectively and to focus on your everyday tasks. Using structure and accountability, I work with you to achieve both your personal and professional goals.
I am a Certified Professional Co-active Coach (CPCC) from CTI, the prestigious Coaches Training Institute in the USA, an Associate Certified Coach (ACC) and member of International Coach Federation (ICF). I am a Certified True Colors Trainer and a Contributor for Asian Journal in Los Angeles.
I was born, raised and educated in the Philippines. I have a Bachelor's degree in Elementary Education (BEED) and a Master of Arts in Educational Administration (MA) units from Philippine Normal University (PNU). I taught at Educational Institutions in Visayas and Metro Manila.
In 1997, I arrived in the United States and joined my husband in partnership of Limitbusters Coaching and Training, Inc. (LCT). I was a Professional Organizer and a member of the National Association of Professional Organizers in Los Angeles (NAPOLA). I was a member of Children and Adult Attention Deficit Disorder Association (CHADD). And in 2000-2003, I taught at Our Lady of the Holy Rosary in Sun Valley, California.
Reviews
4 reviews (5.0)
I worked with Bing during a time when I was working and studying full-time and she was SO helpful in designing structured reflection time. She provided a variety of exercises and asked questions that really made me evaluate the work I was doing and how it jived with my values. She gave me important "homework" =) that I still do almost a year after our time together because it continues to be a helpful tool for reflection. Bing holds you accountable, but she does it with love and kind intentions. I can only speak for my experience, but I have a feeling that she is the type of coach that adapts to each client's needs and goals to create a unique experience for everyone. Highest regards for Bing!

KIT ALVIZ, Project Coordinator, University of Minnesota, USA
I met BING 4 years ago through Holistic Group. At that time, I was searching for new possibilities both in my personal and professional life. Bing's coaching was positive because it was confidential. She was coming from a loving place without judgment at all. She was able to mirror vividly my thoughts and listened what was the underlying mood of what I truly wanted in life. Coaching with BING was a great process and it did clear the cobwebs in my head/body. We set up goals and she held me accountable for it. One of the highlight was when I opened up my own chiropractic center. Now, I live happily with my family and independently owned my practice/business. On that note, I am highly recommending BING.

BARBARA NAUD, Chiropractor, Sitges, Barcelona, Spain
I love coaching with BING because I learned some skills and tools to process my feelings and improve my projects. The impact was a beautiful energy and positive relationships with all the people around me such as my loved-ones, friends and colleagues. It was because of BING's coaching that my life became easy. I was able to empower any person around me, tap my instruments with in and use these in every opportunity in all aspects. The coaching helped me create and achieve my goals and visions in life. I want to recommend BING's coaching to everyone. Me ha encantado realizar mi coaching con BING porque he aprendido habilidades y herramienta para procesar mis sentimientos y mejorar mis proyectos. El impacto fue una hermosa energía y potencializar de forma positiva mi relación con todos que me rodean. Mis seres queridos, amigos y colegas. El coaching de BING convirtió en mi vida más fácil. Tuve la oportunidad de mejorar también me entorno en todos los aspectos de mi vida personal y laboral. El coaching me ayudó a crear y lograr mis metas y visiones de la vida. Me gustaría recomendar entrenamiento de BING para todos que quieren que su vida fluya en buenas energías.

JOSIANA BERNARDES, Master in Food and Nutrition, Sitges, Barcelona, Spain
Having a ´life coach´ wasn't something that I had ever thought about. I assumed they were for people who were maybe a little lost therefore looking for direction, support and guidance. I wasn't wrong, but I thought I had my act together. I thought I was confident, strong, positive and together – but boy, did I need a life coach! What an amazing journey to go on and with BING's caring, professional and beautiful energy she helped me work through my fears, my career, my marriage and family life and building on my future. Each week we worked through facing the things that stopped me from moving forward. Bing used various techniques e.g. visualisation, brain storming, weekly homework so you can focus on producing results in that time frame, amongst many other professional and diverse coaching skills. My journey (I call it that because it really felt that way to me) was so positive and humbling. Never before had I felt so calm and strong put together. I couldn't have known that by working through life in this way one could place the energy in a more proactive and worthwhile way. This made my life feel complete and my heart whole. I can't thank BING enough for taking me to all corners of my life and filling each segment with a 10/10! This came with hard work, time, determination and complete open mindedness from both of us. I can highly recommend BING to you if you are prepared to open your mind, eyes, ears and heart and are ready to go on a journey to help enrich your life…. Are you ready? Now: Happily married, great family unity, wonderful close friends, my own growing business, great health and still working on the wealth bit;-)

ALLY JONES, Beauty Therapist, Expat, Sitges, Barcelona, Spain
The Smart Way To Find A Coach

1 Describe Your Goals

2 Get Matched

3 Free Consultations
Find My Ideal Coach Now