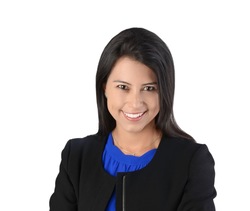 Carolina Zorrilla Fort Lauderdale, Florida
Leadership Coach, Executive Coach, Business Coach
Certified Global Leadership 360 Assessment, Marshall Goldsmith
I coach senior managers, executives & business owners looking to accelerate growth in their career or business, develop their leadership skills while achieving a great work- life balance.
About Me
Welcome to my profile! I am happy to support you become a better leader, have more impact in your work and find career fulfilment.
My coaching program helps leaders:
- Feeling stressed and overwhelmed and a "never ending" to-do list
- Feeling not in control, and only solving urgencies
- Lacking motivation and energy
- Lacking confidence to speak up and perform at their best
My coaching process is completely customised, and focus on three main areas:
1. Gaining clarity of where you are and where you want to be. Definition of specific and aspiring goals.
2. Success Mindset for proper implementation and overcoming challenges.
3. Effective leadership, time management and high performance strategies.
It is a fun and enriched process, that combine your needs, lifestyle, goals and growth to build a plan with concrete steps that produce sustainable results. It also holds you accountable to take action.
Frequent results I see in my clients include:
- Increased self awareness and clarity
- Boost confidence and more impactful presentations and work.
- Unique time management technique that does not focus on to-do list but on results.
- Personal Mastery, reduction in stress, and more balanced life
- Improved emotional intelligence and influencing skills.
- Better delegate and leading the team to high levels of performance.

I have a business background and international corporate experience. As an executive I noticed that corporate leaders around me had tremendous pressure, and stress levels impacting their career, health and private lives. Inspired to contribute to the well being and success of these executives, I decided to become a certified professional coach. I strive for excellence, results and fulfilment. I have invested thousands of dollars in the best mentors and coaches in the industry, to offer my clients proved and effective strategies.
" Success without fulfilment is the ultimate failure" Tony Robbins
Reviews
Carolina has 6 reviews.
" Carolina is an excellent coach – she is extremely perceptive and task oriented. She has kept me focused on achieving my business targets through asking targeted questions. She is able to listen carefully and ask the right questions at the right time so as help you clarify your thoughts and sharpen your statements. She is also extremely intuitive and can sense the changes in your mood and then reflects these back to you – this is useful as it helps you identify the things that you may not be confident in doing and need to create strategies to mitigate. She is also able to distil in writing the precise targets that you the coachee needs to achieve before the next session to consolidate your learning and progress you towards resolving your coaching issues. I would recommend Carolina unreservedly as an extremely capable coach with a varied tool kit to help you unlock your potential."

Sanjaja Grero, Director Rapcomm Ltd. UK
"Carolina is a brilliant coach. What stands out to me is that her coaching activates energy inside me that's been there all along. She is very firm and won't buy into the old stories. I have so much respect for her approach and that's why I have chosen her to be my coach."

May Hishmeh, Australia
"You have helped me with clarity and to sort out thoughts and emotions in myself. The workshop was extremely helpful to figure out next steps to take my business to a whole new level. Carolina was professional, honest and enlightening."

Belinda Bruno, Investor, USA
"Carolina Zorrilla is an outstanding coach for business owners looking to grow their business. Carolina develops immediate rapport and guided me to structures that allowed me to see areas where I could grow better as a business and as a leader. From my coaching sessions with Carolina, I have a seen improvements in the clarity of my business plan and system efficiencies, as well as more confidence as a leader."

Tuquwan Smith, CEO Jersey Athletic League, USA
"After a few sessions with Carolina, I had more clarity about my leadership and this was down to Carolina's coaching style and background in that area. She was able to ask me the right questions but I was also happy to listen to her journey and pull what I wanted from the information. Carolina is direct which I view as efficient and therefore gets results sooner."

Sam Chilcott, UK
"The experience of being coached by Carolina was truly enjoyable.
I found Carolina to be flexible with regard to the topics covered in our coaching session, energetic, joyful and inspiring. We definitely finished the session on an upbeat.
Carolina is a heart based coach who trusts her inner wisdom and intuition and as such she is able to find the core of those things that her client is most passionate about and also most concerned about. She helps clients to find the key."

Jane Darby, Film maker & Editor, Scotland