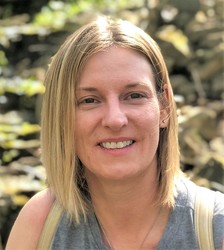 Carolyn Jones

Chicago, Illinois
Health and Fitness Coach, Life Coach
Certified Health Coach, Certified Life Coach
I coach autoimmune warriors struggling with food reactions, fatigue, digestive upset, anxiety and other flare-up symptoms. I help my clients naturally reduce inflammation to heal and resolve symptoms.
About Me
Why I love guiding my clients on their journey to living well with autoimmune DIS-ease through diet, stress relief, and lifestyle choices...
It's the same reason I chose a Dietetics degree and an education in Culinary Arts. The same reason I chose to express and work for myself.
My life experiences drove habits of perfectionism, the need to over-achieve and difficulty building and maintaining healthy relationships. There was always an underlying fear that I am not enough & I don't deserve happiness, peace or balance.
My body reacted to years of this internal battle. The immune system of this girl was genetically predisposed to put up a fight (my sisters also have autoimmune issues).
The fire in me perfectly aligned for auto-immune DIS-ease & full-blown anxiety.
In 44 years I have a lifetime of experiences. Thank the universe I've been given the tools which have allowed me to manage my life traumas to the best of my ability. And the support network I've needed to overcome, thrive, heal and now, pay it forward.
I share this vulnerability with you to show you that healing is possible. That happiness is the experiences along the way. That peace is a forever practice of forgiving & letting go.
Is it the story that makes me a good coach? NO...
It's the HUMAN IN ME WHO CAN RELATE TO THE EMOTIONS BEHIND THE SUFFERING!
It's time to be finished with the frustration over a lack of results in healing from autoimmune issues. It's time to get clear answers. My holistic approach focuses on the mind-body connection, incorporating not only healing nutrition and self-care, but also mindset techniques and strategies to turn off the stress response thereby reducing inflammation.
If you're feeling called to dive deep in your own processes and tools to finally achieve wellness, send me a message, let's connect.
Reviews
5 reviews (5.0)
Carolyn has been an amazing coach! ...Starting with her prompt reply to my inquiry, and efficient plan to work together. She is extremely knowledgeable and experienced in so many areas! Carolyn's style is supportive, caring and nonjudgmental. I have made strides in areas I struggled for years, thanks to Carolyn's commitment, care and expertise!

Laura Hastings
Carolyn is a Great holistic coach. Very hands on and informative as well as understanding. I wouldnt recommend anyone else.

Tomasine Parker
Carolyn is thoughtful and attentive to each individual's needs. She teaches coping techniques and tools to re-frame thinking so that the desired results are achieved by YOU. Each person goes through their own struggles with stress and anxiety and yet we can all adopt similar strategies and skill sets to combat anxiety and take back control of our lives. I HIGHLY recommend the 90-day program - I've learned so much about re-framing the way I think to pull me towards a healthier, more balanced life. I wasn't a person who thought I suffered from much stress and anxiety but the 90-day course showed me that some of the ways I think have been hindering me from being my best self. My physical and emotional manifestations of stress have literally melted away over the 90 days by practicing techniques given to me by Carolyn. Whether you suffer greatly from anxiety or just want to be more mindful and control your reactions and change the way you think about yourself and the world around you I highly recommend working with Carolyn.

Jen Porter
My experience with Carolyn was very positive. She made me realize my anxiety was controllable. All the techniques taught were so helpful. She was always available and encouraging. I am so grateful!

Gwen Taylor
My experience with Carolyn changed my life in a positive way. I was in a dark, heavy place. I had let anxiety run my life for 20+ years and felt I needed to do something that didnt involve doctors and medications. I met Carolyn through another wonderful coach that started my journey to get me through my struggles. Carolyn showed me that I am worth it and the things that were causing my anxiety were things I had no control over. She also helped me start my journey to healing some of my past traumatic experience as a child. I now do exercises that have boost my self esteem. I continue to meditate and do yoga to help move through my anxiety. I recommend Carolyn to help coach you through your struggles as you too are worth it and wont be disappointed. Shes an amazingly awesome coach!!

Sheranda