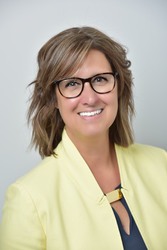 Carrie Cahill

Memphis, Tennessee
Leadership Coach, Business Coach, Life Coach
CEP from CoachU
By shifting Presence, Purpose and Perspective the highly engaged people I support build critical skills in areas of leadership, communication, alignment, resilience, mental flexibility and grit.
About Me
I partner with motivated people to develop and refine their communication, intention, and focus. Together we design and implement personal success strategies that lead to intentional business and/or personal wins. With more that 15 years as a Human Resource Business Partner I've lead a variety of strategic HR projects ranging from an aggressive talent acquisition initiative for the Research and Development team to executing an organizational transformation strategy of the commercial business.
My diverse career path gives me a unique perspective. In both of my last two companies I was nominated to participate in accelerated leadership programs. Opportunities which built my business acumen and broadened my professional insight.
Working to build a globally recognized R&D team was perhaps my biggest career stretch to date. It was this experience that crystalized my belief that the most impactful investment any business will make is in its people. Highly engaged and skilled people transform a business.
By leveraging solid business strategies and strengthening communication, business leaders and their teams have worked with me to develop the critical skills necessary to make significant impacts in their market. In fact, the last group I supported experienced accelerated organizational transformation, which directly impacted their sales performance and supported their ability to bonus for the first time in three years.
My natural curiosity and deep interest in people fuels my passion, insight and contribution as a coach.
Reviews
2 reviews (1 verified) (5.0)
I interviewed a lot of coaches before choosing Carrie based on an introductory session that she offered. I am still glad that I did! She has so many great qualities as a coach: A discerning ear, the ability to ask the right questions, lots of knowledge about in the field of human behavior and motivation, plus an HR leadership background, which was helpful for corporate career/leadership coaching. She coached me through a lot of serious growth, and I highly recommend her.

Katrina
Carrie was a key partner in designing and initiating organizational transformation strategy that included a competency gap analysis, succession planning, reorganization, culture transformation and communication strategy to insure the innovation team had the skills necessary to deliver state of the art innovation on a compressed and demanding timeline. She operated as a strong sounding board and solution partner to the leadership team and with her high level of commitment could be counted on to deliver on time even in the face of shifting focuses and priorities. All of this led to an innovation team that delivered a 5-fold increase in product launches over a two year period.

Karl Kramer, President ICD