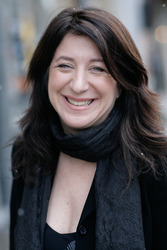 Carrie Katz

Montreal, Quebec
Life Coach, Entrepreneurship Coach, Career Coach
Concordia University Professional Certified Coach, Certified Recovery Addiction Coach, Integrative Harm Reduction- Centre for Optimal Living
Calling on creative professionals including musicians, artists, authors & more-ready for your next level or just starting out to get unstuck and find clarity. Certified Recovery coach-harm reduction.
About Me
I work with Creative Professionals who are looking for support, guidance and honest feedback when making career decisions. I help you untangle obstacles such as unclear strategies for finding jobs or being more successful in your profession, interpersonal difficulties that take all your energy, making it in the music or film world, creative blocks we all experience as artists, finishing a novel, getting published or balancing your personal life.
My approach to Coaching centers around interactive-experiential learning while helping my clients achieve goals. Some of the goals could include strategies around the struggle of making a living at what you love, unraveling patterns of difficult relationships that affect you, or those at a crossroads in need of clearer ideas of what to do next. I do this by first helping creatives sort out what values are at the core of who they are and when that becomes clearer, my clients begin to make different decisions, and these actions accelerate the process of reaching realistic goals. When goals are achieved big and small, it unleashes an amazing momentum and potential.
As a professional singer/songwriter and writer, I have been performing for over 20 years. I have worked professionally in other creative fields such as; Film (Documentary and Feature), Television, the Music Industry, Performance Art and Theatre therefore I have a unique position for creative entrepreneurs and media/arts/entertainment- business people and as Life Coach. For parents, I have raised my daughter while being a creative person! You can do it, I can help. I am a graduate of Concordia University's Professional and Personal Certified Coach (PPCC) program. A member of ICF (International Coach Federation) my focus is on Career, Life and Creativity Coaching as well as giving Workshops.
I coach my clients so that you can have a great creative life, cut through all the confusion, get focused and feel supported in a way that will accelerate your personal journey.
Reviews
13 reviews (1 verified) (5.0)
Vicky
Hey carrie! I have had a great month and learned a lot 1. I have nailed down an art style that i want to work in. 2. I have found a couple of artists that I am using as my muses and whom I want to be like. 3. I made almost $1600 on the side this month in commisions which I did not expect but was awesome! Thank you!

Trip, Character Artist, Art Lead, Atlanta, Georgia
I want to thank you so much, from all the deepest nooks and crannies of my heart, for all you have done to help me, encourage me, and teach me over the past several months that we have been working together. Meeting you in the first place was one of the most important blessings I have had on my journey, and the strides I have made on this journey, under your guidance, have proven to me that I made the right decision to commit to the coaching relationship when I set out to pursue healing through plant medicine. You have taught me so much about myself. For instance, that I am a spiritual person. It took a while for me to be comfortable with the terminology but the more I grow and change, and shift, and accept, the more I appreciate thinking about life, my life, in a more spiritual sense. Thank you for that. Thank you for so many things, too many to name here, but we both know what they are. As you also know, and as we have discussed, when I decided to enter this relationship it was for the purpose of preparing and integrating my plant medicine experiences, and most notably, my encounter with Ayahuasca in Peru. It was a success! One of the most thrilling and rewarding experiences of my life to date. I wouldn't have had such a successful journey had it not been for you and your guidance, and your consistent and compassionate support. I thank you for your help in 'surfing the urges' and really exploring my cravings and triggers over the past 7-8 months...what I learned from you with respect to my addictive behaviors and thoughts has literally saved me from falling back into old patterns. Thank you so much for that too. You helped me save myself. As mentioned, my initial goal was finding truth and perspective with respect to my addiction, and preparation and integration with respect to my trip to Peru, and I feel like we have worked hard together on these themes and I have made so much progress that now I must learn to integrate and navigate on my own by putting into place everything I have learned and observed. You have been a loyal and effective coach, but equally, I think of you as a trusted friend and confidante. I know I will need to reach out to you in the future as I follow some path, yet unknown.

Joanne; receptionist for Consulting Firm, Montreal, Canada
I have spent some time lately in deep reflection of 2018, with all the huge shifts and changes that have occurred. All the immense growth I have experienced. I wanted to extend out to you my appreciation for all the work we did together this year. Our sessions gave me a safe space to express and see myself clearly through some very confusing times. Your warmth, patience, and presence in each session were healing for me. Thank you for helping me see my strengths, for encouraging me to trust and believe in myself. I am in the best place I've ever been on this solo journey, both internally and externally, and I attribute much of that to you and our work together.

Emily, Singer- Songwriter, Canadian living in Australia
Carrie made an effort to ensure that our coaching sessions were a positive environment. Afterwards I always felt energized and full of purpose.

Ric Rags, Author, Montreal
Your learned coaching helped make this book real, rather than a bit of lore. Your insight and support are the true stuff of legend. I am glad for your motivation.

Jonathan Kruk, Author of Legends and Lore of Sleepy Hollow and the Hudson Valley, Cold Spring , NY
Miss Katz is a talented artist and coach. I highly recommend her for any project involving music, art or any higher form of communication.

J.P. Mortier, Singer Songwriter, Montreal
I had the opportunity to work with Carrie last year. Her business coaching services provided me with great insight. She is engaging, thoughtful, professional. She helped guide me out of a comfort zone , and , as a result, I was able to embrace a professional and personal growth experience.

Carmela Guerriero, Manager, Business Development; Private Trust Services, Montreal Qc
I highly recommend Carrie' expertise for anyone who wants to develop new ways of thinking. It has been my third workshop with her and every time my practice has benefited from her professional competencies in coaching with creativity, fun and respect of the individual's limits. Her approach is dynamic and the results are there!

Sophie Blondin, Coach certifiée ICF et Facilitatrice, Montreal Qc
Carrie Katz is a wise and extremely perceptive individual. She cuts through the dross and gets down to the heart of the matter in an intuitive and compassionate fashion. Very importantly, Carrie truly understands the Creative mind.

Sacha Davidsohn, Designer, Portland Oregon
"Carrie has the ability to immerse herself completely into her work in a energized and focused way. You can count on Carrie to get things done and have fun in the process too! She is passionate about her music, her coaching and life! It is contagious!"

Amanda French, Certified Coach and OD Consultant, Montreal
"Carrie is the coolest coach I know! She has a wonderful, warm, open and fun-loving personality that lends itself perfectly to her chosen field. I attended a creativity workshop that was enlightening and fun. She's also a FANTASTIC singer/songwriter - I never get tired of listening to her CD

Dr. Julia Di Nardo, Psychologist, Montreal
"I had the opportunity to work with Carrie on some personal life challenges, when she was starting out as a life coach. My experience was extremely positive and I gained insight into my challenges through her ability to ask the right questions, at the right time.. She is motivating and compassionate and I would recommend her fully."

Lynda Robitaille M.A., Organizational Change Practitioner, Montreal