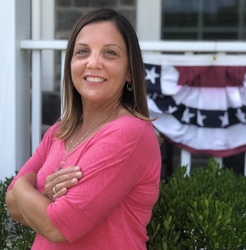 Carrie Mead

Ellicott City, Maryland
Spirituality Coach, Career Coach, Relationship Coach
BA, MS, Masters in Counseling
You are in major life changes like divorce, retirement, or a new career. I am a certified Transitions Coach. You seek confidence, clarity, calm & vision as you prepare your next steps. I can help you.
About Me
You know where you want to go with your life but you don't how to get there. In other words, every day feels like a cross country trip without a map. This pattern of self-doubt, overwhelm, and indecisiveness has lingered in your life for too long and now you are ready for sustainable change, peace, and fulfillment.
I have assisted many clients, like you, to regain vision, purpose, and drive in their lives. I love helping people step into their full potential and I am passionate about bringing the best out of my coaching clients. Most importantly, I love helping my clients realize their own self-worth and excellence.
I studied coaching at the Institute of Life Coach Training and I am a certified "Seasons of Change" transitions coach. I hold a Masters of Science in Counseling from McDaniel College and a Bachelors Degree from Gettysburg College. I blend my psychology background with coaching to give you a holistic approach to success.
Reviews
8 reviews (4 verified) (5.0)
Kristin
I appreciate Carries kind attitude, patience and knowledge.

Kristin Ruiz
In terms of a life coach, Carrie has been a keystone in my life as someone to talk to. She creates a realm of peace and forwards positive thinking for me. I highly recommend Carrie to someone who is looking for a life change and needs someone to aid them in getting out the ditch we call rock bottom. She will move you upward and aid you in life decisons and issues.

Drew
Very helpful in all of my areas of life!

Steve
I reached out to Carrie to continue to evolve my spiritual, personal and career growth. During our time together, I have developed strategies and plans to improve my meditation techniques, focus on abundance, living in the present moment while still working on goals in the future, more effectively working through internal anger and judgment and most importantly living in a world of natural unfolding discovery. If you are looking to work with a coach, explore possibilities and then take action to elevate and evolve your life, I would recommend Carrie.

George
Carrie is amazing, she was able to provide clarity and be a guide as I worked through some tough decisions. I would recommend Curiosity Life Coaching to anyone going through a transition in life or striving to live their best lives! Working with Carrie is such a positive experience.

Lauren Watson
Working with Carrie has been an awesome experience. She has really helped me to focus in on my goals, clarify for myself long term goals, and encouraged growth with an individualized style. She has been easy and flexible to schedule time with, professional, and I highly recommend!

Luke Rupp
Carrie is a kind, educated, caring, and most importantly, compassionate coach, that has helped me navigate several changes in life over the last year. I would highly recommend speaking with her to see if she's a good fit for you. Carrie was professional and had great ideas to help guild me through recent challenges.

Mary R