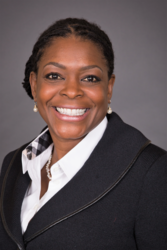 Carrie Register-Haley

Alexandria, Virginia
Executive Coach, Leadership Coach, Life Coach
PhD, CPC from IPEC
I coach executives and leaders who have stagnated in their careers or lost their passion. My client is seeking to clarify their personal and professional aspirations and get back to being excellence.
About Me
Dr. Carrie Register-Haley lives in the Washington DC, Virginia, Maryland Metro area.
I believe no one has to live their life feeling unfulfilled, dispassionate about the work they do or the life they live. You can live on purpose and with purpose if you want it.
My approach to Executive and Leadership Coaching is rooted in re-energizing, re-empowering and rediscovering a passion for what you want to accomplish. I consider your business, personal and mission objectives, because I know that each is a reflection of who you are, and how you show up in your professional environment. My goal is to help you fine-tune behaviors that promote a sense of purpose and excellence. I do this by asking thought-provoking questions in the areas where you seek greater clarity.
Together we will explore the power of the empowered mindsets, behaviors and perspectives that will drive your performance. I am constantly adding to my own knowledge of tools to help you tap into your potential and remove hurdles to achieving your ideal performance. I use specialized assessments that help clients understand themselves better, and then provide guidance on how their results can be used to develop strategies for long-term success.
I have a PhD in General Psychology from Capella University. My other certifications include:
• Human Resources Management
• Certified Professional Coach & Energy Leadership Index-Master Practitioner from the Institute of Professional Coaching
• Professional Certified Coach (PCC) with the International Coaching Federation and registered Mentor Coach
• Certified Total-Strength Deployment Inventory Facilitator
- Leadership Agility 360 Coach
• Graduate from Federal Executive Institute, Charlottesville, VA
• Lean Six Sigma (Black Belt)
- Myers Briggs Type Indicator Facilitator
I served nearly 21 years on active duty in the US Army before retiring. I also worked for the Department of Defense where I served as an executive and a coach.
Reviews
4 reviews (5.0)
I highly recommend Dr. Carrie Register-Haley as a Coach. She created a safe, skilled, non-judgemental space for our coaching conversations, that helped uncover insights, so I could begin to make plans and take steps toward my goals. Her humor, encouragement, support, and sharing of herself allowed our coaching relationship to blossom. She possesses a soft, strong knowledge of how to meet you where you are and I felt completely at ease with her. What a blessing she has been to have in my corner and I am honored to have her as a Coach and colleague It is with deep admiration and appreciation when I say thank you in a million ways, a million times for the time, skills, compassion and wisdom you shared with me. Sincerely, Diane Yowell, Professional Life Coach

Diane Yowell, Professional Life Coach
Personal growth was also encouraged in each session, one topic being the importance of making oneself a priority not just personally but professionally.  I learned the benefits of making better decisions that allow happiness within versus the happiness of others and reminding myself that I am always number one.  Also, continuing to make education a priority and self-development through regular coaching and mentoring sessions with senior leaders.  All sessions were very informal and interactive, truly a value to myself and I'm certain to the other participants. Thank you Dr. Haley! -Keisha High

Keisha High
Carrie, I have thought long and hard about this message.  It just does seem appropriate enough to say thank you. Our conversations over the past 3 month have been more than inspiring.  They have been thought provoking and at times that is exactly what I needed.  Your words have also been encouraging and at times that is what I needed.  You have helped me in finding my voice when I speak to others.  The serenity prayer is my daily mantra now.    So for lack of another word to say, I simply say thank you from the bottom of my heart.  I feel that I was more than a client, but it felt like I was talking to a friend who cared unconditionally.  We all know how that is hard to find. My continued prayers go out to you and to your work.  You are truly a blessing and please know that you make a difference in the lives of all that you touch-Professor D

Professor Lynn Dorsey
When I started with Dr. Haley, I was pretty established with my professional career, but had got a bit complacent.  I called her because I have observed her coach/motivate friends and peers of mine to reach levels of professional and personal growth beyond their wildest dreams. She has set the perfect example and always teaches one how to embrace adversity and use it to become a stronger person. I have gone from doing the things that I thought I needed to do, in a very hurried, disconnected and driven way to being the person that I always knew I wanted to be but just didn't think I could or should be.  A perfect example of this rests in the fact that I will finish my Doctorate in Transformational Leadership because of the coaching and support I received from Dr. Haley - I literally almost threw in the towel about 24 months ago! I have my PhD now!!!!! I have an overwhelming feeling of peace, calm and a solid feeling of I'm where I should be - she's coached me how to recharge when I need to and look at the glass as "half full" instead of "half empty".  I have a new perspective on life now.  I have a great career in the government with unlimited potential to obtain positions of greater responsibility and advancement in the future.  I literally feel like I can do anything now!  I also feel that my relationships and connections with people around me have grown in such a deep way - it is overwhelming. I cannot thank Dr. Haley enough for the wonderful insight and the support and encouragement and belief in me!  -Chuck Barber

Dr. Charles Barber