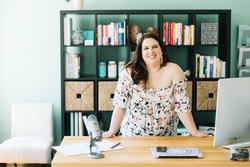 Cassandra Shuck

Huntersville, North Carolina
Business Coach, Spirituality Coach, Life Coach
Details

Huntersville, North Carolina 28078
7036287982
Send Message
Visit Website
Hourly Rate: $500 to $1,000 US Dollars
Gender: Female
About Me
Cassandra's always been good at "the hustle".
From a young age, Cassandra cultivated the belief that she had to be self-sufficient to succeed. This helped her escape from a turbulent upbringing in a household stricken with abuse.
Cassandra's entrepreneurial endeavors taught her first hand how trauma can manifest in different ways; self-sabotaging, doubting your intuition, white-knuckle control and even, perfectionism.
Despite these challenges, she was able to create and grow multiple successful businesses including Tola Marketing + Creative and Milkin' Cookie, from the ground up.
She's discovered what it truly takes to leverage trauma and define a new level of income, impact, and fulfillment.
Through her experience helping women in some of the most meaningful times of their lives, as a birth doula, she realized the power of women working together.
In her current role as an entrepreneurial guide and trauma-informed business coach, Cassandra helps female entrepreneurs unlock their highest potential. She approaches each client and project with a fresh perspective, innovation, and curiosity.
For more information about Cassandra's story or to connect with her visit CassandraShuck.com.
Reviews
4 reviews (5.0)
First and foremost, working with Cassandra Shuck was such an amazingly positive experience. She was extremely helpful, resourceful, caring, patient, and truly one of the best decisions we made for our business. Cassandra helped take our business to the next level and helped us generate more income within a matter of weeks. We will forever be grateful for her services and definitely plan to use her again for future endeavors! Thank you so much for bringing out the best in our business.

Ms DiDi's Caribbean Kitchen
Working with Cassandra has moved me into a whole new dimension of my work. Cassandra's intuitive talents allow her to identify which areas of my business need attention and then together she relates this to the chakra system and more importantly to areas in which I have blind spots. Working through these areas clears up the corresponding issues present in my business. I highly recommend Cassandra. Her business knowlege coupled with her intuitive talents are a winning combination. She can crunch numbers and instruct with the best, but she also has the gift of vision that is invaluable.

Elizabeth P.
Working with Cassandra has been absolutely amazing for both my business and personal sides. She's helped me to integrate the two better and aided me in navigating huge shifts in my business. She's smart, she cares, her repertoire is endless and her understanding of how to get the best from the people she coaches constantly amazes me!

Gabrielle Chipeur
It's hard to describe how transformative the Hustle to Healing group program has been. From the very first intuitive reading, Cassandra has been shockingly spot-on with uncovering the hidden traumas, self-stories, and insecurities that have held me back from realizing my full potential as an artist and businesswoman. Working through these with a group of inspiring women has been validating, comforting, and so rewarding. The personal growth has been worth every penny, but after two months I've already paid for my investment through my improved client boundaries and pricing structure. If you want someone to lovingly show you every blind spot, truly embrace the source of what you're struggling with, and empower you even when you don't realize it's happening, Cassandra is your coach. She is brilliant, kind, and brings her trauma healing experience to her clients with an open, badass heart. Some kind of fate brought me to her and I am SO grateful to her for unlocking doors in my life and business that I didn't even know were there. Truly, thank you. If you're reading this, hire her!!

Mariah Gale Smith