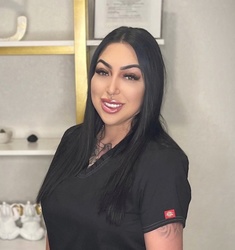 Catalina Mares

Tucson, Arizona
Spirituality Coach, Life Coach, Relationship Coach
I coach people who are looking to empower themselves through self discovery. I assist individuals taking part in their spiritual journeys by helping connect to their highest power
About Me
Hello!
My name is Catalina, and I find beauty in empowering individuals through self discovery, healing, and spiritual connection. I have strong beliefs that each being is Divine, and our endless power can open us to the opportunity for learning, growth, Spiritual connection, is deeply sacred, and offers a peaceful and fulfilled life.
I believe My mission is to help make this world a better place by supporting you in connecting with your highest power, wisdom, and divine guidance. Being a Spiritual being having a human experience isn't always easy, and sometimes we get lost. I offer a judgment free, open minded discussion to help you see you are a powerful divine being capable of having an extraordinary life that you are worthy of!
I myself struggled with anxiety and depression but following my spiritual journey has led me to a beautiful, peaceful life, and I have never been happier. I believe that spreading this gift of Love and Light to other individuals, assisting them to feel empowered, unafraid, and infinitely wise will make this world a better place!
So if you are in need of a listening ear to discuss relationships, career, general life, all while diving into your Spiritual Journey, then I am your Gal!
Reviews
Catalina doesn't have any reviews yet.