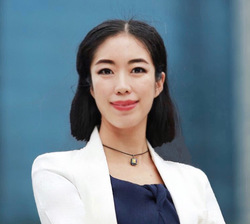 Executive Coach, Leadership Coach, Career Coach
BA, MBA, Co-Active Coach Training, Marshall Goldsmith Stakeholder Centered Coaching, Hogan Lead Assessment Certified Leadership Coach
Coach leaders on how to be instead of how to act so they lead with characters rather than leading by coping. Professionals at crossroads in career wondering where to move next.
About Me
One of the most sought after impactful Executive Coaches who helps C-Suite and Senior Executives to create high impact and achieve deep transformation, through unparalleled coaching experience of developing business leaders in many disciplines.
Highly recognized for thought leadership in the areas of CEO effectiveness, leadership, political savviness, strategy, execution excellence, and organizational alignment.
Possessing a unique combination of qualities has led to success and being acclaimed as a top global coach across a range of industries. An international recognition as Top Performer Coach by Global WHW in 2015.
Excels in holistic coaching and empowering leaders to achieve the best selves from every aspect.
Extensive coaching experience and fluency in adapting all types of coaching style lead clients to an enjoyable coaching journey while staying focused on achieving their personal and corporate goals and driving lasting behavioural change.
16 years of corporate working experience in Fortune 500 companies prior to present Professional Coach endowed with various leadership roles on APAC & Global level in various global organisations; e.g., IBM where I was leading Software Group market management for APAC, and Siemens where I was the Director, Mainstream Engineering Education Sector APAC, by which I headed the Education Market Development Division for APAC regions and significantly increased market coverage in APAC region and impacted on Industrial Design on a global level.
Leadership experience in Fortune 500 companies empowers me to thoroughly understand executive clients' leadership challenges, matrix structure, global organisation's dynamics and business goals & missions. By speaking the same language with executive clients, it builds the fluency, powerful transformation and high impact effectively with individual executives and their organisations.
CLIENTS:
- ExxonMobil
- AWS
- Manulife
- State Street Bank
- Google
- SAP
- GSK
- Deloitte
- Stripe
- Northern Trust
- Estee Lauder
- Fitch Group/Fitch Solutions
- Standard Charted Bank
- HSBC
- DBS
- Vale
- LyondellBasell
- Many More
Reviews
12 reviews (1 verified) (5.0)
Catherine has a wealth of experience and knowledge in coaching. I enjoyed speaking with her. She is also a nice person.

Steve N.
My sessions with Catherine were excellent. She managed to find just the right balance between asking the right questions and listening to responses and then skillfully steering my thoughts to a point where I felt I had a clear understanding of my goals and motivations. We had very deep conversations about values and fears but also fun and light-hearted ones about our experiences and preferences. Through the coaching sessions I gained clarity on what my personal values are and how these fit into my career. I was reminded of my love for story-telling and she inspired me to find ways to incorporate that into my work life, which I am now doing. After we spoke I initiated a company blog and as the main content contributor, I will be able turn a personal passion into a career development opportunity. Overall, I not only really enjoyed our conversations but derived great value from them and came away with a much more holistic sense of self.

Susan, Head of Marketing & PR, Asia Pacific
Catherine is an excellent coach and has really helped me to change my life by focusing on what my authentic self is and using that to drive towards my deepest goals in work and life. At the same time, she has helped me tremendously with the tactical day to day realities of my job and be my most effective and authentic self in overcoming them. Catherine's expert coaching was just what I needed. Today, I'm within arm's reach of goals that I thought were unattainable before. Importantly, I have a whole new level of confidence, understanding and perspective on myself and how I work by fully understanding very deeply what makes me tick, what my liabilities and assets are and how to most effectively bring these to bear in my working life. I'm very grateful to have found Catherine and highly recommend her.

Ryan Scott Ulrich, Communication Director, GSK
To whomsoever it may concern I took up coaching with Catherine to understand my goals better and create a structure for achieving. My journey with Catherine has been that of delight as she facilitates self discovery through critical questioning and offering a huge listening space. This offers a safe environment. In my my own view, I have sorted many complex internal and spiritual challenges which has enabled to me move faster towards my goal. I adopted discipline as my fast friend and this was only possible through Catherine's questioning and unassuming coaching style. She offers candid suggestions and I can guarantee that everyone can benefit to understand or discover themselves better if they had gone alone or with other coaches..

Executive Director, DBS
"Sunglow has assigned a great coach to me. She is a great listener. I feel like she knows me much better than myself, which surprised me. She gave me a new dimension and techniques I have practised since our coaching program. She made me realise and make decision that I can change myself. She make me able to confront my greatest fears, which was impossible for me before. As a result, I stopped avoiding the situations that I always had fear of and now I just go handle the situation with growing confidence and the right mindset. I have gained new life goals and become determined to keep on finding ways to identify the things I don't like and find solutions to fix them. The Coach made me greatly step out of my comfort zone, that's why I now can change! She made me brave. She made me realise and believe I am brave. She made me be able to control who I am. I now know much better about myself and I am able to change to be a better self. I especially like the coach's using Metaphor, which gave me a visual way to process complex situations. My Coach is absolutely helpful and encouraging. She is like a catalyst but also a carabiner- she worked with me to identify the directions, then lifted me up on the rock and created the room for me to climb and explore by myself but she is actually always there to hold me safe. Her questions helped me realize what is feasible and what is not. One more thing I can't forget to say is my coach is such a genuine person. I have learned a lot about the power of coaching from who she is and how she coaches."

Mike Dufresne, Director of Product Development
"I had a meaningful coaching relationship with Catherine. Her coaching has been instrumental in helping me to sort through my ideas to find my direction. Through the coaching sessions, I was able to formulate my ideas, and Catherine helped me realise that I wanted to set up and run my business and also how much I wanted to do this. Throughout the coaching session I realised that this aligns with my core values, which I discovered during the sessions. I have cleared my mind, and deepened the understanding of myself through the coaching. I am now clearer with myself and more analytic as well. During the coaching relationship with Catherine, I have been able to let some limiting beliefs go, and now gained some positive new beliefs that make me believe in myself and helped me become more confident. I now feel empowered and feel really excited to pursue my own business I am ready for the next challenge! Catherine was to me a warm, fun, dynamic but driven and determined person. Her humous style made me enjoy each session but at the same time her determination helped me focus on achieving my personal goals."

- Jenny Lane, Founder & Manager Director, Notes on a Postcard
"I was experiencing career crisis, and I was very down for a long time. I had a wonderful discovery session with my coach from Sunglow Leadership international who helped me list down my top values from discovery session which I felt so aligned. On the way to meeting my coach for the 2nd session, I was thinking very loud that 'I am having a career crisis and I most likely soon lose my job that I love as I am not recognised by top management. Yes she is a great coach but what can she do to change the situation? She can't change my boss's mind into keeping me for the job. She can't do anything with our bank..' However, my coach did a coaching exercise with me and I was literally smiling after it! I felt absolutely much lighter and was able to discover my strengths which helped me greatly come through the situation positively! When the 2nd session started my coach asked me to look at a mirror which was actually an iPhone camera and I saw an angry face and I even noticed my eyes were moist, but I did put smiles genuinely after the coaching practice. During the coaching period, I was gradually able to look at the critical points that turned to be turning points for turning my career crisis into a better job opportunity in the bank I work for, which led me act on it in a totally different manner and achieve things positively. I eventually was able to look at the bigger picture and understand the company/management much better at the end of our coaching relationship. It turned out that I was offered a better job opportunity in our head office, which I hardly dreamed of it before. The coaching program with Sunglow Leadership Internationl totally empowered me and guided me though such a big crisis in my career and helped me make a break through!"

Director of customer relationship APAC, an European Bank
"Dear Catherine, Thank you for taking the time to be my Top Performer Coach. I thoroughly enjoyed and benefited from our sessions. One of the benefits for me was to expand my courage and insight to pursue other options in my employment path. As I have experienced some setbacks for many years, I was challenged by being all of the job market and just taking jobs that were not best for me. I needed to expand and refresh. The visionary exercises were particularly beneficial to me as they did unveil what is authentically "me". I fondly remember my vision of my very own planet you called "paradise"! Thank you for helping me through in a very simple yet enlightening way. Thank you for your dedication, professionalism and commitment to our goals and progress. You were kind, patient, and "really there" for me. Thank you very much! "

- Valerie Price CEO, a Reputable Interior Design Company
Catherine, I just wanted to say you were so fun to work with. I still remember we had big laughs during sessions! I was feeling completely relaxed but at the same time you're also the person who won't make me forget the things we are working on. I also never lose my focus on what I need to take actions on to develop my leadership competencies and change my behaviours. Working with you as my Executive Coaching process has been transformative. I sometime struggled between being in leadership role and being myself. You made me realize that leader are not born, but grown. I then started feeling released and being able to focus on developing and polishing my leadership skills. I highly appreciated your coaching sessions and your devotion on helping me change and become a better leader. I have to say the process of leadership development from you really interested me, that's also the reason I made decision instantly to work with you. One thing I really liked is you always asked the right questions to lead me to very solid answers that helped me with solid decisions. Thank you."

Belinda Champan, CEO, Australia
Since I started working with Catherine, I have changed my leadership approach which resulted in effective communication with top management. Catherine is a true professional experienced in understanding leadership behaviour and the ability to help me rediscover myself to be a better human being and leader. She is insightful and motivating, but also fun to work with. Catherine did a great job in helping me undergo the transformation in leading my team and enhancing my visibility to the top management. I had gone through a career transition during our coaching relationship, and Catherine helped me come through this stage smoothly in a very effective way. I can't see anything that could have been done better in a different way."

Denny Zhou, Director of Business Development
"With Catherine as my leadership development coach, I have taken many of the skills she helped me develop and am trying to practice them on a daily basis. As a managing director, I was very focused on my own helm and lack of strategic perspective, which prevented me from growing and developing myself in the company I work for. Catherine helped me uncover the problems and provided me techniques to help me modify my leadership behaviours which has been proven to be effective in building my influence and increasing positive business outcome in the organisation. Catherine is a flexible leader herself, which made me reflect on myself with my leadership behaviours and be empowered to go ahead to change."

-Melinda McCarthy, Managing Director
Dear Catherine, Thank you for your investment and involvement in WHW's Top Performer Program this years. Your role in empowering and assisting our client with realising her potential plays an instrumental role in WHW's ability to help clients navigate the issues they face in the workplace and to equip them to grow in their own personal lives. Your invaluable time and coaching skills help to support WHW's mission to empower the unemployed and underemployed to become the most marketable candidates to get and keep a good job. Your vision and intuition not only helped our client focused on accomplishing a specific outcome, it also allowed her to discover a life purpose and helped her to maintain a clear view of her goals. On behalf of WHW's Board of Directors, staff, and clients - Thank YOU for making a difference in the lives of our clients who are recently employed in Orange County. With much gratitude, Robyn Williams Director of WHW Progrms

International WHW