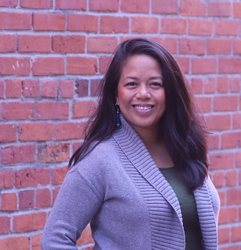 Charina Cruz

Vancouver, British Columbia
Career Coach, Life Coach, Entrepreneurship Coach
BA, Post Grad Business Management, The Art & Science of Coaching
Are you a professional that is dejected, tired and unclear of what path to take? I'll help you craft a life/career/business based on your vision of what success, fulfillment, and happiness are!
About Me
I work with people who want more for themselves --> More happiness/success/fulfillment/balance not only in their professional but also personal life.
You know change has to happen but you don't know what you should be doing. What is your calling or purpose? Perhaps you've forgotten what you're passionate about? Or not sure what the first steps to take? Perhaps you're lost or in the brinks of being overwhelmed.
My whole career has been helping people grow and achieve their goals. I've lived and worked across 5 continents. Not only have I helped hundreds of people through change and transition – I have personally been through it more times than I can count. I've been an award-winning Career Advisor; a Recruiter and Executive Headhunter (where I relocated people from around the world) and a Business and Growth Consultant for Entrepreneurs and Companies. I also have an Adventure Social Enterprise in Tanzania - ANDA African Adventures – integrating travel with positive social impact.
I understand what it takes to create a fulfilling life. Through my 15 + years of coaching and consulting, I've learned that everyone wants a sense of happiness, fulfillment, and success. It's about exploring your Inner Compass, cultivating the right growth and positive mindset, gaining clarity with your needs and wants, creating an Action Plan and solidifying achievement by taking steps to make it happen. I also wrote a book - The Practical Guidebook to Career Success - How to Get Any Job You Want (& More) to help clients step-by-step.
I'm a pragmatic, process-oriented, results-driven, positive outcome, fun-loving type of Coach who is the ultimate enabler of helping people achieve their goals and dreams! I believe that "Harmonious Success" in our 7 Core Pillars paves the road for people living their best life. You can read more about my passion and track record of success with my clients on my website! Or better yet, let's talk and have a powerful free Success Strategy together.
Reviews
7 reviews (2 verified) (5.0)
Charinas coaching came at a career crossroads and mid-life redefining for me. I was doing well, but I was unhappy with my employment. She not only encouraged me to make the change and take the leap of aiming to the next level but identified the steps on how to achieve it. Quite often we do know a change is imminent, but we fail to see the how to steps. Charina is a great listener. Her professional, yet friendly demeanor, inspires one to voice the inner worries, the insecurities and hopes for a better carer path. She listens carefully, asks key thought-provoking questions, and pinpoints the exact areas needing a change. A great communicator, identifying ones career strengths reveals naturally through the sessions with Charina. I would recommend working with Charina to anyone who reached the career point of realization that personal introspective is not enough. Charinas extensive expertise and professional approach will easily identify items which require improvement. Currently I am approaching completing a degree and I have recently started a new job in the field I wanted to switch to for so long. I could not be happier. I must thank Charina for giving me that push to think outside the box. I thank Charina for her professional advice, encouragements, structured approach to resume drafting, along with all the smiles and aha moments we had through our sessions.

Iris Vega
She was great! Very easy to communicate with and she got me started off on the right foot! I was able to learn about myself and develop a bunch of tools for success. Thanks Charina

Andre
Charina is a compassionate, solutions-focused, inviting, and professional coach.  Her client-centric coaching approach is both effective and enlightening as she has helped me overcome my past limiting beliefs, my inner demons, and helped me remove my blinders so that I can realize I have the resources, the creativity, the vision, and the strength to change my life to one that I want to live.

Edmond C, Senior Specialist, Vancouver
Charina is the bestest. She coached me when I was going for a promotion. She helped me through all the rounds with interview preps, with presenting my business case and industry insights. Above and beyond ready, she helped me blow them away and show off my strengths and skills with confidence. Thanks to her I secured my new role!

Naomi C, HR Advisor, Scotland
Charina is awesome! Someone who instantly makes you feel comfortable with her warm smile and hilarious personality. In my chaotic lifestyle as an athlete from moving one place to the next, being away from family, and having so many unknowns. Charina has been someone to calm the storm, she has helped me to find clarity on my path of unknowns and helps sort my values and visions for the future. She has gone out of her way to set up appointments and even has been in the stands for one of my big tournaments! I love having her in my corner cheering me along the way.  She's the magical unicorn!

Kristen Moncks, Canadian Woman's National Volleyball Champion, Vancouver, Canada
Charina is the most grounding person I know. I'm not a big fan of life coaches, but she is the only person I would actually ever recommend as one. She's really good at making things suddenly seem simple, easy and obvious if you've been stuck in a rut for a while or calming you down when you're freaking out. She's fun and funny and non-judgemental and always sees the best in people and situations. I can honestly say I've learned to find more joy in everything from Charina, and she wasn't even trying

Mitzi S., Teacher, Australia
Despite considering myself a goal-oriented and ambitious person, working with Charina unveiled a whole new level of what I could be and achieve.  What I thought was the sky was only the first floor!  Both in my personal and professional life.  She is a total game changer.

Daniel Kijo, Anchor, CCTV News