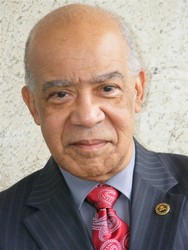 Charles Eduardos

Olmsted Falls, Ohio
Executive Coach, Life Coach, Leadership Coach
Certified Hypnotherapist, Registered Corporate Coach
Would you dare the audacity of embracing your unique greatness? Would you dare step beyond your comfort zone? I coach people who relentlessly pursue excellence in their professional and personal life.
About Me
I am a Registered Corporate Coach (RCC) through the Worldwide Association of Business Coaches (WABC), Certified Hypnotherapist and Neuro-Lingustic Programming Master Practitioner. I am dedicated to assisting you in your quest for a transformed life. I believe that you can have, you can achieve and you can be more than you ever imagined.
Some of my organizational clients include:
CEOGC.org - Clevelalnd Clinic - AFLAC - Baldwin Wallace University - RE Warner
Who (or what) controls your thoughts and feelings?
To what extent do you feel in charge of your thinking, your emotions?
Would you like to feel more in charge?
The Victorious Living System is all about discovering and using your personal power. You can experience a greater sense of satisfaction and peace of mind; of being productive, and creative as you learn to access and activate your inner wisdom?
What is your purpose, your vision, your mission? What are the barriers that you perceive? The things that get in the way of your Victorious Life?
Why not give yourself a fresh start. Learn how your mind operates, and start operating your mind. Start creating the life of your dreams.
I am dedicated to assisting you in your quest for a transformed life. I believe that you can have, you can achieve and you can be more than you ever imagined. I want to partner with you and help you take charge of your thinking and renew your Mind.
Discover your internal map of reality , and begin to create peace, happiness, and personal success — no matter your past or present.
Discover who you really are, underneath all of the conditioning.
Eliminate self-sabotage; that keep you from achieving your desired outcomes.
Gain more focus and clarity; and un-stoppable power to achieve your goals. Learn many powerful and amazingly effective personal growth secrets that you'll be able to use the rest of your magnificent life.
Reviews
19 reviews (5.0)
At a time where I felt the circumstances of my life had trapped me in a cycle of poor habits, I turned in desperation to a life coach. I will be eternally grateful that fate crossed my path with Charles Eduardos. During the years he has mentored me, I have grown in all areas of life and conquered obstacles that I would have never thought possible. He has posed thought provoking questions and exercises that have led to significant changes in my lifes direction. Charles has encouraged, supported and coached me to be a better man. His very centered personality has kept my goals and roles aligned with my values. If you should have the opportunity to seek wise council, I highly recommend Charles and the Victorious Living System. Dennis Maxwell Caris Husband, Stephanie and Julie s Dad and Isaacs PawPaw 83 mile ultramarathon finisher

Dennis Maxwell
Charles is an outstanding coach. He listens, advises when appropriate and cause me to continue to think. Our session are always helpful and encouraging. I learn more about myself and my leadership style and the things that I need to be working on. Charles is always direct and his comments are always useful.

Dave Clements
Charles is great to work with and has really helped me keep positive thoughts when my mind wants to go to a dark place. He knows how to listen to what you are telling him and picks up on little things to improve on that makes a huge difference.

Dennis Fernandez
I find Charles to be tremendously inciteful and assists me in uncovering resourceful truths about myself and my situation that leads me to good outcomes for the challenges I face.

Phil Gustafson
I was at a point in my life that I knew something had to change. I had tried over the past several years to change my life, improve my relationships, and have a more positive outlook, but I had not been successful with any positive, sustainable changes. Charles' Victorious Living System was everything I had been looking for! A counselor that listened to me and then retold me what I had shared or experienced would not be enough to change my life. I was very much aware of what was affecting me, but I did not know how to change how it affected me. Charles gave me an understanding of how my past had been woven into my present and how I had created patterns that could be broken by using tools that would help me create the future I wanted to live. Charles did more than just regurgitate my feelings and the information I shared with him. He helped me to understand who I was, why I had become that way, and exactly how to become the 'me' that I so desperately wanted to become!

Candace Williams, Executive Director
"If you're looking to make a positive change in your life –personally or professionally – Charles can help you make the shift to a positive, successful and VICTORIOUS life! I've known for some time that the way I think (my internal roadmap as Charles calls it) was holding me back. I needed a coach who could help me get past the beliefs that weren't serving me – and I had quite a few of them! During my sessions, Charles challenged these beliefs and open my eyes to a new, more productive way of thinking. We worked through a number of personal and professional items. I have a much clearer picture of what I want out of my business and my life. I recommend the Victorious Living System to anyone who is feeling 'stuck' but understands that they can create the life they've always wanted with the right tools and the right coach."

Liz Hersh, Owner of Hersh PR and Marketing
"As an Engineer, I tend to look for results and good one only, I came across Charles profile and to be honest, what people said was too good to be true, so I said lets give it a shot. As soon as I sat with him, I realized that this box won't fit the enjoyable experience every person has and after few times I saw dramatic change and the performance boosted ten fold. It was smart decision to choose to work with Charles."

Mohamed Abdelgayed, Process Engineer
"Charles is a superlative coach. His deep listening skills coupled with an ability to often ask the perfect question at the perfect time makes him an invaluable sounding board, guide and partner in success!"

Craig Kennedy, Executive Coach
"While going through a particularly difficult time in my life I had the opportunity to avail myself of Charles' services. His deportment immediately put me at ease. The one-to-one counseling gave me a fresh understanding in dealing with my concerns and the hypnotherapy session left me refreshed and able to move forward."

Heidi Hooper, Marketing/Communications
I sought his services to help me clarify my business and personal goals. Through his work, I was able to refocus my energies and to better define my goals, which has resulted in a renewed desire to use my talents, skills and time to improve my family and myself, and to make a positive contribution to activities in which I participate.

J. Chisholm, PhD. Cleveland, OH
He motivates people to work together toward a common goal."

Law Enforcement Coordinator, United States Attorneys Office
Charles challenges me to imagine far beyond my self-limiting vision by asking provocative questions that empower me to articulate passions and possibilities that I can live out in my life and work.

Rev. R. Bass, Michigan
I lacked a plan and direction. The coaching sessions with Charles have been instrumental in unleashing my creative side and reminding me of what value I bring to my organization. Charles is an attentive listener, who gives a different perspective to perceived barriers. He doesn't claim to or give answers. His probing questions would draw me to form constructive thoughts that would led me to develop a plan to remove whatever obstacle I found most challenging... He will hold you to task. The experience has surpassed my greatest expectations.

Rene Cooper, Manager of Mortgage Loans, Cleveland, OH
He helps stretch and push me to the next level.

HR Manager, Cleveland, OH
"I'm been most pleased with my association with Charles. He's an attentive listener, is not afraid to be frank and go hard on you when it's necessary, yet is very sensitive to what makes you you. These are all important qualities in a life coach/career coach, as ultimately we should be seeking to be the most effective individuals we can be, based on what innate talents and abilities we are gifted with but probably don't take advantage of. He's very good at helping one focus on those things. Highly recommend."

Mark Davenport, Programmer, Cleveland, OH
I left my meetings with him, there was an overwhelming sense of peace and genuine feeling of lasting accomplishment moving forward. I can honestly say that not only from a conscious level, Charles dramatically moved me in a deep subconscious way, as well.

Laura Vobornik, Performance Coach
"Have you ever felt "stuck"...knowing that you have the gifts and talents to do great things, but were unable to get past a certain point? I've felt this way many times before. However, "Pastor C" (Charles Eduardos) helped me to recognize, come to terms with, and now "rewrite" those life scripts that served to hinder my progress. I now have the ability to think from a fresh perspective with a renewed mind. Not only has he provided me with the tools to be more successful in my business, I am able to apply what I've learned to enhance my personal development as well! Pastor C is awesome! I recommend that you contact him today!"

Angie Eichelberger
Charles is my "Victory Mind Mapper." He uses he gifts and talents in hypnotherapy and NLP to help me grow in my Christian faith and work through barriers and strongholds. He allows me to have a personal encounter with Jesus, my Savior in a way that is transformational. His scripture meditation products can help you 'be transformed by the renewing of your mind' too. I have never encountered a hypnotherapist and NLP practitioner that so fully and effectively integrates the Christian faith in his work. I highly recommend Charles and his products for helping you break free and draw closer to God.

Patty Sadallah Management Consultant & Coach
Charles is such a blessing. I have been able to grow to love myself and God more on a daily basis. The awareness he has helped me bring into my life is astonishing. His skill to bring you to God on a personal level is amazing. His personal attention and support is such a wonderful and loving gift. I would highly recommend him to anyone!

Pamela Kurt, Esq.