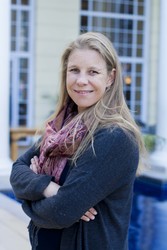 Charlotte Haggie

Cape Town, Western Cape
Life Coach, Health and Fitness Coach, Performance Coach
BA, MA, ICF Accredited Diploma in Practitioner Coaching, ACE Qualified Personal Trainer
Do you long to be more confident but are held back by the thoughts in your head? I can help you recognise the inner voice & quieten it so that you can live your life with clarity & joy, free from fear
About Me
I coach people who have lost confidence in who they are or what they want to do. I work with people who have hidden their identity because of the negative thoughts that hold them back from being true to themselves.
Do you find yourself constrained by the voices in your head? Do you feel like there is so much more you want to be & do but you don't feel like its possible to get there? Do you sometimes feel like you are not sure of who you are or are overwhelmed by the chaos in your head that holds you in this place? Do you feel frustrated & unsure of how to make progress?
I used to live my life in turbulent water filled with all sorts of debris. Today, I live a life that is much calmer & more peaceful, not governed by my old negative thoughts & emotions but liberated & free to think & feel more clearly & joyfully. I have got to recognise & know the voices in my head that have overwhelmed me & kept me stuck so that today I know myself so much more & am able to see & appreciate my strengths & talents & use them to live a full & courageous life.
I have always loved working with people & through my coaching, offering them the clarity they need to acknowledge themselves. I love to help others find freedom as they get to know & understand themselves & start to live their lives fully, freely & healthily. I thrive on seeing people stepping out into the world with courage as we build the confidence they need in themselves to be & achieve all that they long to.
With an MSc in Social Development Studies & qualified in the Integral Coaching Method & as an ACE Certified Personal Trainer, I offer my clients a holistic approach to themselves & to the world.  My calm & caring spirit allows my clients to be vulnerable & brave while my love of a challenge helps them build the courage & resilience to make the changes they want in their lives. My three years in the coaching sector has given me the skills & experience that allows me to partner with my clients on this journey.
Reviews
2 reviews (4.5)
Before working with Charlotte I felt overwhelmed by day to day life as well as the future, I felt as if there was a deep, dark cloud looming over me with no way to rid myself of it. Anxiety was a large part of my day and a feeling of helplessness was dominating me mentally and physically. I was very aware of the issues I was facing and tried to deal with them myself, but was not able to make any changes, I may even have made the situation worse going over and over everything allowing self loathing to creep in. Knowing Charlotte extremely well as a friend and vice versa I wondered whether it was better to seek help with a stranger, however I didnt need to feel any doubt at all, I can be entirely vulnerable and honest with Charlotte in our professional relationship. After only three sessions with Charlotte I felt lighter, more mindful of living in my current space and of my reactions to criticism and to other people, I felt closer to the happy self I knew to be true of my strongest characteristics, but had lost. Charlotte has enabled me to be grateful, to laugh more, to be vulnerable and ask for help and to be strong. In letting me learn these emotions my life is enriched and my relationships are so much stronger, the dark cloud has gone and anxiety is no longer such a fixed part of my life and when it does show its face I now have the tools to breath and deal with my feelings calmly and rationally. As a human being Charlotte is not like any one I know and I was always so grateful to have her in my life as a close friend and confident so to add a level of professionalism to our relationship has been life changing for me and those around me. Charlotte is honest and thinks with no judgement, her skills as a life coach are exceptional and her character as a person is one of a kind.

Holly Hudson
I attended life coaching with Charlotte Haggie for 6 sessions between the months August October 2018. Charlottes warm, engaging, professional, non-judgmental, understanding nature and approach made it incredibly effortless for me to have an open dialogue and address the subjects at hand. Charlotte is equipped with the knowledge and possesses the fantastic ability to provide guidance and direction, along with practical day-to-day tools that one can apply to everyday life. I highly recommend Charlottes coaching services for both career and personal life. Thanks to Charlotte, I was able to solidify decision making, change and become aware of my thought pattern and re-gain confidence in several areas. Thank you, Charlotte!

Christel Weinert