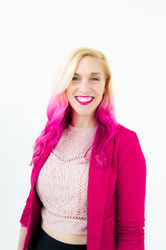 Chelsey Parkinson

Riverview, Florida
Relationship Coach, Life Coach, Performance Coach
BA, MS, Doctoral Candidate
I coach individuals and couples that want more from their lives, relationships, careers and most importantly, themselves. I partner with my clients to generate momentum and accomplish great things!
About Me
Now more than ever, it's time to get out of your own way. It is so easy to feel powerless and stagnant right now, to get caught up in fear and anxiety over the unknown. But, it doesn't have to be that way for you.
This is such a unique time we find ourselves in, and you can absolutely generate momentum and opportunity here... or continue to stay stuck and afraid. You have the power of choice now, just like you always do. Let's work together to get you to that place of choice and opportunity.
What do you want to see when you look back on this time? What do you want to know you spent your time creating?
Getting what you really want in life is possible, and you're wholly capable of achieving it… you just might not have the tools to get there yet. Coaching can provide those tools, the creativity and mental agility you need to accomplish your goals and change your life.
I coach from these core beliefs:
1) Obstacles only stand in our way until we solve for them.
2) Fear has great intent but is overexpressed and stops us from even trying.
3) Emotions aren't the problem. How we choose to react is.
4) Your "shoulds," "musts" and "have-tos" rob you of time and energy you could be spending on your wants.
5) If you can change your mind, you can change your life.
I believe my job as a coach is to be the most powerful accountability partner and success advocate you've ever had. My only agenda is your success!
When we work together, we will apply evidence-based tools and practices from proven methods within Positive Psychology, Cognitive Behavioral Therapy, and Cognitive Coaching to help you clearly identify and design your goals for maximized success.
I am an ICF accredited ACC, certified Leadership and Performance coach, hold a certificate in Positive Psychology, and I am also a doctoral candidate.
I look forward to accomplishing great things with you soon!
Reviews
4 reviews (5.0)
I believe that everyone should have a life coach like Chelsey. After our sessions, I feel clear headed and goal directed. I have been working with Chelsey for almost a year. In that time, she has helped me move out of a state of victim hood and into a space where I feel more confident, strong, and authentic. Chelsey has helped me find my true values in life and has taught me the mental techniques needed to trust myself on my journey of growth. The benefits of working with Chelsey have been immeasurable. I am so grateful for the perspective and support from Chelsey as my life coach.

Sallie R.
Chelsey's approach to coaching was extremely positive and helpful. Not only did I learn things during our sessions, I actually genuinely enjoyed them! A+ in my book :)

Mauria
Chelsey is a compassionate and intuitive coach who gently led me to recognize my own self-limiting beliefs. She perfectly balances the qualities of being persistent in getting to the root of the issue, but offering me space to process and arrive at my own conclusions in my own time. She is a skilled communicator who can contextualize different mental models with examples that are funny and relatable, which helped ease me through many uncomfortable moments. She is also very forthcoming about the process of coaching, always telling me the "how" behind the way we recognized my limiting beliefs and re-wrote the story, which empowered me to start recognizing those thoughts and re-writing them on my own. My coaching experience with Chelsey has been absolutely incredible, empowering, and life-changing.

Brooke
Chelsea's guidance and questioning is impactful and revealing in the coaching process. I unearthed several things about myself and my inner thoughts processes through our sessions. As a matter of fact, I want to continue working with Chelsea! I so look forward to having an hour with her coaching.

Amanda Linton