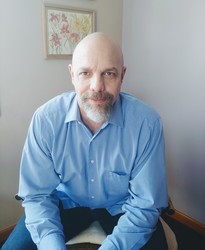 Chet Spence

Wyoming, Michigan
Life Coach, Relationship Coach, Money and Finance Coach
BA
I remove the barriers from my clients that keep them stuck where they are at. I coach them to move forward in their lives and achieve their goals with confidence.
About Me
My name is Chet Spence, founder of Walking In Love Coaching. For the last 25 years, I have coached several individual and couples through various life events to achieve their goals. I believe that for you to have true success in life, what you do has to align with who you are.
Once you understand what you're here for, then you can build a successful life on purpose. I believe that there is a desire that burns inside you, just waiting to be unleashed and completed. I can help you unleash it.
If you ever told yourself "I'm not..." or "I can't..." , or if someone has said that to you, that's an obstacle.
If you've said, "This is as good as it gets", that's an obstacle. Any thought, act, behavior, feeling, or friend can be an obstacle. Sometimes obstacles exist when we don't even know it. I help you identify what's holding you back and work to get rid of it.
You have so much more to offer than what you are doing right now. I can help you be your best you by unleashing the uniqueness inside of you.
When you live with purpose and direction, you will:
Have clarity and direction
Have a relationship of trust, love, and respect
Align who you are individually, and as a couple
I do that by following a very simple process:
1.Understand Who You Are
I take the time to listen all about you, to understand where your're at currently, and what you want from your life.
2.Break Down Barriers
Once you have clarity on your direction and what it is that's keeping you from being you, the next step is to get rid of what is holding you back and replace old patterns and behaviors with new to live your life.
3.Practice New Steps
Now it's time to practice new steps. Anything new is difficult at first and takes practice, until old behaviors are gone, and new patterns emerge.
I look forward to learn how I can help you achieve your best!
Reviews
I am fully enjoying and benefitting from my coaching with Chet. He has a natural and tireless passion for helping people. His positivity and optimism are helpful through challenging times, but this is based on objective data as he can be very honest and direct when needed. He asks fantastic questions that keep you in the driver's seat and stimulate your thinking and creativity. A wonderful person to hold you accountable and make steady progress.

Dr. Eddie O'Connor