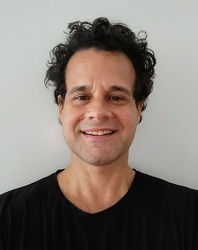 Chris Acosta

St. Petersburg, Florida
Life Coach, Health and Fitness Coach, Performance Coach
E-RYT 500
I have over three decades of success coaching clients in healing physical, mental and life pain through body, mindfulness and meditation therapies that empower you to dismantle what holds you back.
About Me
True transformation is the goal with whatever circumstance you are facing.
IN LIFE...
Are there repeated misunderstandings and blocks that keep arising in your relationships?
Are you challenged by a career uncertainty, divorce, retirement or loss of a loved one?
IN HEALTH...
Do you have scoliosis or are living with chronic back pain?
Are you struggling to recover after an accident or injury?
IN PERFORMANCE...
Is there an area in your life where you are operating less than optimally?
In any of these situations, my approach is to support you in patiently discovering the roots causes of suffering and chipping away at the underlying drivers so that you can move more freely towards long-term healing, balance and self-direction. The ultimate intention is for you to walk away with tools to facilitate your ongoing self-awareness, emotional intelligence, resilience and contentment.
I come to this work through my first-hand experience of body, brain and life healing. Thirty years ago, I was living with extreme scoliosis – two curvatures with the largest at almost 50 degrees, multiple herniated discs, pinched nerves and spinal arthritis. At that young age, faced with the possibility of surgery, I was fortunate to be introduced to alternative methods of healing. I began a movement and mindfulness practice that gradually freed me from severe pain and deformation of the body. Armed with these successes at the physical level, I started to focus on the mental traps that were causing their own seemingly inescapable cycles of suffering.
I have worked with clients from their teenage years into their 90s, with a variety of circumstances and conditions.
Back pain, disc and spinal disorders
Anxiety, panic attacks
Work-life balance, high levels of stress
Arthritis, fibromyalgia, auto-immune disorders
Body dysmorphia, eating disorders
Depression
Headaches, migraines
Injury rehabilitation, chronic physical pain
Insomnia
Addictive/compulsive behaviors
Osteoporosis
Trauma
Reviews
3 reviews (5.0)
The one-on-one and lecture setting time I was able to have with Chris has been increasingly beneficial. With the new tools and first-student experience, I've been able to free myself from cycles of behavior leading to pain and suffering. I can't recommend his guidance enough. Thank you, Chris.

Amanda Diane
Chris is an exceptional coach that uses practical approaches that will help you transform your life. Each time we completed a session I came away with new perspectives and tools that I could use in my personal and professional life. Working with Chris has made a profound change in my relationships, my view of myself, and my overall happiness. I highly recommend Chris.

Christi Milan
Chris is an incredibly insightful teacher. He is particularly skillful at really getting to the underlying drivers of your challenges, helping you shine a light on them, and then designing tailored practices to make movement on the root of the issue. I appreciated that the practices were bite-size enough to feel realistically doable amidst a busy schedule, but potent nonetheless. I always walked away from a session feeling like I had new insights about myself, and that I had actionable ways to create healthy change. The work Ive done with Chris has had a hugely positive impact in my life!

Julia