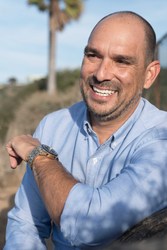 Chris Aguilar

Torrance, California
Life Coach, Entrepreneurship Coach, Executive Coach
Certified Professional Life Coach, No More Mr Nice Guy Certified Coach
My clients are "Nice Guys" who are feeling stuck and lacking passion in their life. With almost a decade in the recovery community, I also work with individuals needing help with sobriety.
About Me
Are you a Nice Guy? Let's find out. Do you often feel taken advantage of? Do you constantly feel like you need the approval of others to be ok? Do you help lots of people and get resentful when they don't notice? You might be what Dr Robert Glover calls a "Nice Guy" as detailed in his book, No More Mr. Nice Guy. As a "Nice Guy" Certified Coach, I help men to work through these issues and re-write their life story and re-discover their passions. I also work with Executives, Entrepreneurs and those seeking to find their career path
As a person with many years in recovery, I also work with men working through the trails of sobriety - from newly sober to people with years of recovery looking to get out of their rut.
Reviews
Chris doesn't have any reviews yet.