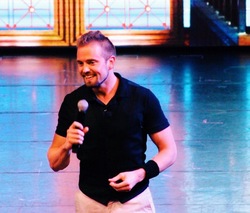 Chris Loveland

Haddam, Connecticut
Life Coach, Relationship Coach, Leadership Coach
I support clients who are looking to master their mindset, life balance, goals, get more success, results, fitness, freedom and time. Revolving around many different aspects of their lives.
About Me
Book by October 11th to get half off for the month!
Click website link. (in bio)
✅ professional coaching business where I coach in ultimate self, mindset, balance and more
I have signed clients such as students, teachers, entrepreneurs, coaches, performers out in many states around the US, all the way up to an HR Director for the MLB
✅ freelance media marketing business where I design explainer videos, consult in media exposure and awareness helping small business develop their social media or their brand
I have worked with Doctors' offices, coaches, artists, package stores, all the way up to non-profit United Way.
Live your ultimate self. Take action for YOU, today.
Reviews
6 reviews (5.0)
Chris is amazing at what he does! He truly cares about making a difference in people's lives. He helped me understand my goals better and actually set a time frame to them so I could take action toward those goals. Chris kept me accountable and his joy for what he does transferred to me and made me want to make strides toward bettering my life! Thanks Chris!

Mikayla F.
I have worked with Chris for so many coaching sessions and I can say, without exaggeration, that his combination of strength, empathy, patience, and insight has helped me tremendously in resolving many challenges. For years I struggled to be consistent with my day-to-day business actions; as much as I tried, time-and-time-again I'd never succeed. Consulting a results coach wasn't really an option back then as I felt it was just a waste of resources. It took so much persuading from a friend who also recommended Chris. It has been a pleasure to work with him over the past 5 months. His intensive coaching, targeted approach, and dynamic skills set are unmatched. I have witnessed a great amount of transformation in both my business and personal life since I started working with him. He has taught me how to make the best out of every moment, that nothing is impossible, and to trust my own potential. Chris is a great listener and has the ability to help you figure out what it is that you really want. I recommend him 100%.

Zack H.
Working with Chris is an unforgettable experience in the best way possible! I've never met anyone so positive and motivated and he just exudes this energy at all times. He is one of those people you feel lucky to have in your life because he is dependable and loyal and it's impossible to have a bad day if he's around. You can 100% be yourself around him and confide in him and never have the fear of being judged which is hard to find these days. He makes you want to be your best self and helps and inspires you to do whatever it takes to get there. Not to mention he is absolutely HILARIOUS and you burn calories hanging out with him because you pretty much can't stop laughing. I will never forget our time working together and hope to have the pleasure of working with him again in the future!

Sarah M.
Chris is outstanding. He is always so fun and positive and supports you in a way you don't realize you needed. He pushes you to be the best you, you can be. He helped me overcome stage fright which has helped me succeed in my new job and helped me grow in self-confidence to know I'm worth something. I can see how much he genuinely cares not just for life and his job but the each individual whether he knows them or not. Once again a huge thank you to Chris for just being you and supporting me with your kindness and guidance x Definitely, recommend to anyone looking for help with anything from relationships to work or personal growth, this is your man. #keepthelovegoing - Chris Loveland

Leo A.
Chris is extremely positive, encouraging, supportive and honest. Working with Chris was such a privilege. I am so happy to have met Chris Loveland. Chris is a breath of fresh air and has had such an impact on my life without even realizing.

Kara R.
Life altering is an understatement! Chris helped me identify some crucial challenges I was facing as well as provided tangible tools and suggestions to rectify them. Chris is effective, committed, down-to-earth and caring. His approach is also refreshing, simple and compelling- an approach I respond well to. He masterfully creates an environment of trust and loving support, in a judgment-free zone, where one can openly explore relationships, career, health, and realize there are valuable tools available for how to navigate life's challenges. I highly endorse him for anyone seeking a coaching catalyst for improvement.

Sam P.