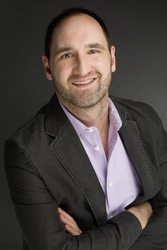 Chris Ptak

Salt Lake City, Utah
Leadership Coach, Career Coach, Entrepreneurship Coach
Certified Life Coach (C.C.A.)
I work with seasoned and aspiring business, non-profit, and community leaders who seek to rediscover direction and purpose in their careers and leadership by living lives of courage and conviction.
About Me
Carl Jung pointed out life's greatest and most important problems are all, in a certain sense, insoluble. They can't be solved—only outgrown.
Servant leadership has purpose and personal growth at its core. It is for those whose integrity requires them to be inventive and venturesome, to risk the initiative to find better ways and to do the hard and sometimes dangerous work that brings the impossible to reality.
Together, we will identify distinct elements of your personality that influence others—your strengths, communication style, and psychological preferences. After exploring where your personal and professional goals intersect, we can co-creating a blueprint for holistic fulfillment, targeting areas for growth and outlining a step-by-step program for achieving it. We will make note of Servant Leadership principles and other closely-related approaches along the way, including Authentic and Transformational Leadership.
In the process, we will challenging those beliefs that reinforce counterproductive habits and behaviors and clear the way for deep-seated change and a powerful, personal mission to take root.
-------------
I have a bachelor's degree in psychology and a master's degree in theology. My career has involved some form of counseling or teaching for over 15 years. I spent a few years living and working outdoors in a therapeutic wilderness program, an experience in which I was steeped in both the philosophy and practice of authentic, effective servant leadership.
I then served on the leadership team of an NPO in Chicago for 6-years and was tapped to co-chair a legislative task force convened in large part because of efforts my team had initiated. I taught for a number of years at Lewis University and was certified to coach in 2016 by the ICF and the CCA.
I love what I do. Helping others to clarify their values and to express them with conviction and courage is the most fulfilling and authentic work in which I have ever engaged. Can you say the same?
Reviews
I had a great experience with Chris's coaching. He is incredibly thoughtful, a good listener, and provided useful insights to help take my thinking to the next level. I came to Chris with a lot of vague thoughts, ideas, and questions about my career goals and the path I should be taking. He helped me organize these thoughts and questions, tease out meaningful patterns and themes, and think through the right right approach to take. Chris's thoughtful perspectives pushed me in very helpful ways. Would definitely recommend Chris to others.

Ethan G