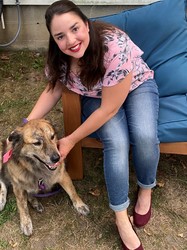 Chrissy Mellinger

Newport, Rhode Island
Life Coach, Entrepreneurship Coach, Business Coach
BS, MBA, Certified Associate Project Management (CAPM)
I primarily work with creative and service based entrepreneurs who feel like they have lost themselves in their business and want to bring more authenticity into their brands and the lives.
About Me
I empower my clients to forge their own paths and stop listening to all the noise from everyone else. There is so much noise in the online space, from family + friends, and any other channel you can imagine. However, I firmly believe we are all our own best teachers and know what's true for us. That's what I work with my clients on; silencing the external world to get in touch with their most authentic selves and bring that magic to the forefront.
While I primarily work with women entrepreneurs, as I have been in many of their shoes before, I believe we all deserve to feel empowered to be ourselves. Much of my work is empowerment and authenticity based as you must know who you are, what you want, and how you want to be before you can build a successful, sustainable, and authentic business venture.
For we are all exactly right exactly as we are right now. There's more work we can always do, more healing, more play, more discovery, but we do not have to fit someone else's mold to be good enough. I help my clients build that for themselves.
My process:
1. We discover who you are. Maybe you know, maybe you don't. Using powerful conversations, journaling, somatic movement, creativity, and play, we strip away the limiting beliefs, upgrade your mindset, and re-wire the neural pathways to set you up for success.
2. We build you a life that supports your goals. Whether that's a business, a career, or something else that fills your soul. This looks like strategy sessions, confidence boosts, energy healings, and intuitive guidance.
3. We celebrate and tweak as needed!
Reviews
Chrissy is kind and approachable, she is competent in communication & active listening. There were some discrepancies between giving advice from a therapeutic/ emotional approach and a business perspective.

Anonymous