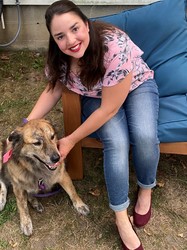 Chrissy Mellinger

Newport, Rhode Island
Business Coach, Entrepreneurship Coach
BS, MBA, Certified Associate Project Management (CAPM)
I work with female service based entrepreneurs to create sustainable business strategies, replace limiting beliefs with empowering ones, and step into the role of CEO of their businesses and lives.
About Me
I empower my clients to forge their own paths and stop listening to all the noise from everyone else. I use what I've learned over the past 30 years as a human, a leader, a manager, and an entrepreneur to help you build a strong foundation, focus on the necessities, and stay true to your big dreams.
I've known since I was 8 years old that I'm here for big things. The first hint of this was my childhood dream of opening a spa resort. I had notebooks of diagrams, services I wanted to offer, floor plans, vision boards, you name it. How this idea came to me, I couldn't tell ya. But this dream of Paradise Spa & Resort propelled me on a journey that continues to this day.
During my life though, I stopped focusing on that knowing. I started listening to everything else telling me to go to a good school, work hard, get a job, get promoted, pay my dues, and stay the course.So that's exactly what I did. Graduated with dual Bachelor degrees and immediately started working.
I spent 2 years in hedge fund admin, returned to school (MBA this time), and spent the next 6 years in hospitality. It was during this time (hospitality) that I began to lose myself even more. I started to work even more, take even less care of myself, and focus on shrinking myself to fit into this totally different person. Maybe if I could just try harder, I would unlock the secret. I dreaded certain meetings because I knew I would have to stuff even more of my true self down deeper. Hide the sarcasm, put a mask on, just nod along.
Four years later, my body had enough. In the fall of 2018, I took a 3 month leave of absence from work. I started to open up, do the inner work, and figure things out. The inner work led me to my true potential and power and to my mission of helping other women out of the rat race and into their own amazingly abundant lives.
Entrepreneurship is not for the faint of heart. I help my clients do the same - the inner work and healing and all the strategy combined.
Reviews
Chrissy doesn't have any reviews yet.