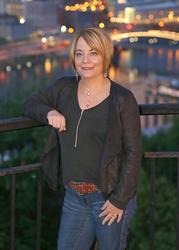 Christina Hibbard

Niagara Falls, New York
Life Coach, Relationship Coach, Spirituality Coach
I help ambitious women get freedom from self-doubt, achieve more and ooze confidence to live out their Divine-given calling with courage.
About Me
Hi there, beautiful! I'm Christina, and I'm happy you're here. I'm a Buffalo-born, happiness-obsessed mom of one who got tired of being a perfectionist and decided to live life more beautifully, and I love helping others do the same. You can usually always find me with a book in hand or chasing my puppy around in my backyard.
I struggled with low self-worth, low self-esteem and confidence for fifteen years until one day, at a stop sign on my way to TJ Maxx a light bulb went off in my head about what real beauty and real confidence really are and I figured out how to change the way I thought, the way I felt and the way I lived. And I became about 1000x happier as a result.
My story is filled with a lot of brokenness …an abusive childhood, anxiety, and financial crisis… but after a lot of self-work, looking deep inside myself and hiring my own Life Coach I've turned that brokenness into beauty and strength.
I still pinch myself every time I realized that I am actually happy and confident, and that I have found my Divine-given calling as a Life Coach and I know that I can do the same for you.
Make yourself at home. You belong here and I am happy to call you, my friend. You have amazing potential within you, and it is my hope that I can help fuel you with the courage and confidence to cultivate it and to live life beautifully.
XXOOXX, Christina
Reviews
2 reviews (5.0)
Honestly the best investment ever. Christina was able to support me in stepping into my power as a woman and successful entrepreneur. She helped me learn to honor myself first, say no, remove toxic relationships and show up for myself at 100%. I highly recommend Coach Christina.

Meri
"Working with Christina was a life changing experience. She helped me to reach new heights in my career and to finally succeed at long-standing personal goals. She is extremely personable and has the ability to connect with her clients quickly and to begin work with them at whatever stage they're in at the time. She is trustworthy, always encouraging, and a patient and insightful guide through life experiences in pursuit of goals and dreams. She also offers good value and high integrity."

Erica Kopp