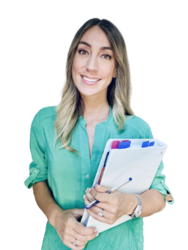 Christina Sambak

Miami, Florida
Career Coach
NLP Master Practitioner, Certified Professional Coaching
I help people make money doing work they love.
About Me
I'm a certified professional coach (PCC) with more than 10 years of International Business experience in the fashion industry.
I'm a licensed Neuro Linguisting Programming (NLP) master practitioner and I'm in the process of obtaining my professional coach certificate (PCC) at University of Miami.
After the initial free phone consultation, where I asses my clients' current state, I meet my clients in person, over the phone or on video calls and through a series of thought provoking questions I partner with them in creating the action plan that will help them live the life they've always dreamed of living.
I'm a results driven coach and will only work with clients that are 100% committed to the transformation they aspire to have.
Reviews
6 reviews (5.0)
Christina is an excellent coach. She deeply cares about her clients and creates powerful partnerships for successful outcomes. I highly recommend Christina as a coach!

Raysa Ahuja
Christina did a great job of holding me accountable for the situations I found myself in. As a result, I was able to turn long held intention into action and come up with affirmations that reminded me to take responsibility for my own happiness.

Arti P.
I worked with Christina for 8 weeks. During that time, I was able to make incredible transformations in my life that I will be forever thankful to her.

Martin, M.
I really appreciate the job that Christina did with me. Thanks to her sessions I felt more motivated and focused on the objectives to be achieved

Noemi Trombetti
Christina's positive energy is contagious. Times are challenging and I recently learned that through her coaching, surrounding yourself with the right energy is most important to me. I didn't realize the importance of coaching until I tried it with her. There were more than just professional issues I could talk to her about. We are not one dimensional beings, and as a working solo entrepreneur, she could relate to me in a multidimensional way. It gives me focus on work, yes, but we need to address more than one aspect of ourselves to be the best we can be, not only as a value driven working professional but more than that, as a wholesome human being. I'm looking very forward to a fruitful and rewarding long term relationship with Christina. I highly recommend her.

Carolina T.
I really enjoyed working with Christina. She showed incredible care and sensitivity ever since our first phone call.

Juli