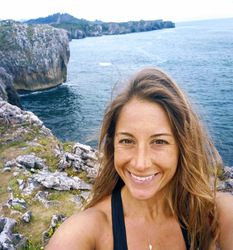 Christine Conforti

Ocean Grove, New Jersey
Business Coach, Leadership Coach, Entrepreneurship Coach
BS, MA, 4PC Leadership Mastermind, MAD Life Coaching Apprenticeship, B-school Grad
My "Holistic Business Coaching" is for entrepreneurs ready to do their inner work. My most successful clients are *committed* to deep conversations, meditation, journaling and lifestyle experiments.
About Me
I have a unique ability to soften people by being unexpectedly present and positive. I'm told this experience is refreshing. For me, I couldn't imagine engaging any other way with another human being-- from dearest friends to total strangers.
I live life with one foot in the business world, and one foot in the spiritual world. I recognize that being human makes unconditional trust and love incredibly difficult. I focus my personal growth on reprogramming my mind from judgement and fear to acceptance and love. I use my own journey and wisdom to coach my clients to do the same.
I believe the physical body is a vessel to channel our creative talents, Optimizing our energy through how we fuel and move it is key to reaching our human potential. I live and teach a balanced lifestyle that nourishes the body, mind, and spirit. I'm extremely conscious about what I consume, including digital information and social media. I believe technology is to be selectively applied to increase our capacity for human connection, not numb us from real, vulnerable interactions.
What I don't want you to know about me..
I'm a recovering perfectionist. I struggle with not feeling "good enough" and comparing my decisions to traditional expectations. I'm fiercely strong and independent, and struggle to admit that I want to be in deep, romantic love.
Why I love coaching..
I love helping people truly love themselves.
I love sharing my positive energy and creativity to grow a tiny idea spark into a burning entrepreneurial fire.
I love working with my own coach to expand my comfort zone, deepen my identity as a powerful woman, and trust my inner knowing of what is most honest and true.
I graduated Georgetown University SFS, and hold an MA in Education and Social Change from University of Miami. I'm a Teach for America alumna, and Mindfulness Facilitator for the Hawn Foundation. At age 24, I quit my "dream job" at the United Nations to pursue fulfillment over achievement.
Reviews
12 reviews (5.0)
Christine's strength is posing unique questions that allow you to view a situation from a very fresh perspective and identify powerful blind spots that may be preventing you from making headway in goals. She then focuses on moving through whatever is preventing your progress in an empowering way that leaves you excited to approach challenges. I have been working with Christine for just over a month and have already seen tremendous advancement in goals I have had for many years, and in which I had been previously stuck. Her integrated technique, which interweaves health, personal and professional elements, is incredibly effective.

Sara Cousins, Associate, Membership & Industry Partners. EMPEA. New York, USA
Christine was introduced to me at a pivotal time on my Remote Year journey. I was feeling lost, unsure if I wanted to continue, and confused on what direction to move forward in. She helped to redefine that path, look at situations with a new and fresh perspective and ultimately gain my confidence back to move forward with exploring the business and life opportunities that interest me most. She holds a space for you and challenges you to be your most authentic and true version of yourself which I am forever grateful for.

— Sarah Butler, Freelance Project Manager. Philadelphia, PA
Christine is the first coach that I've worked with and I'm enjoying the experience. The thing I find most useful is her help with positively reframing situations. I don't mean some over-powering, carpet bombing kind of positivity, more an incisive ability to facilitate an investigation into specific new ways of looking at something in a more constructive and empowering way. Often it feels like the conversation is just meandering around a certain topic but in reality we're testing out different perspectives to see how they feel. That's the process and suddenly we hit upon something that is transformative and it surprises me. I'd recommend Christine as a coach for people who are feeling stuck and need shaking up a bit with a new way forward.

Tom, Business & Personal Success Coach. Kuala Lumpur, Malaysia
Christine has provided a space for me to explore my business ideas, with a focus on lifestyle design and creating something truly fulfilling as opposed to just another project. She also helped me make changes in my life that provided me with a lot of confidence and energy. Her balanced approach also enabled me to change my perspective on enjoyment and relationships. Her greatest strength as a coach is the energy she brings to the relationship. She truly cares about the personal growth of her clients and it shows. She's constantly growing, learning and is always sharing her new insights. I can identify hiring her as one of the best decisions I've made to grow as a person and improve my life. I'm often very stubborn and Christine has helped me overcome a couple of key limiting beliefs I had been holding on to, calling me out on them even when it made me uncomfortable.

Melissa Rodriguez, serial entrepreneur & Founder of The Gods Playground. Valencia, Spain
It dragged me out of a ditch I'd dug for myself, rebuilt my confidence, and established new skills and habits like cooking for myself, which changed my relationship with food. The consistent support created the stability I needed to start living on my own terms again.

Vid Tekriwal, San Francisco
Coaching has helped me value myself, and value giving myself the time, space, and support that I need to grow. The experience has helped me take risks and do the things that I want to do, even when they've terrified me at first. It has also helped me reflect back and celebrate my wins so I don't just rush onto the next thing. I feel like I'm finally living the life that I'm meant to be living, that I want to be living, and I couldn't be more grateful.

Cait Ryan, Personal Transformation Companion at Inside Out Explorers, LLC. Bali, Indonesia
My coaching experience with Christine has been critical in helping me get to where I want to be. Before working with her I felt stuck, stressed, overwhelmed, I wasn't present or mindful, and I was in a negative state of mind. The sessions, techniques, and resources Christine provided helped get me back on track. With every session, I always took something away or simply left the session feeling better about things. She helped me improve my mindset, break bad habits and routines, and shift from a negative state of mind to being able to focus on the positive and shift my mindset from problem-based to solution-based. These shifts in my personal life in working with Christine have directly reflected into my business as well. She helped me overcome blocks and challenges in my business. She was also good at bringing things back to the big picture, instead of focusing on all the small things that can overwhelm. I love that she can relate to my situations as well, being an actual digital nomad/entrepreneur herself. Christine has been a fantastic coach and I love working with her - I highly recommend her!

Kate Smith, Founder of WiFly Nomads & The Remote Nomad. Toronto, CA
It has helped me slow down, focus on what is truly important, and come from a more balanced place, tuning into my intuition and truth. I have developed my relationships both with partner and family, and practising living in a more truly authentic place everyday. My coaching with Christine has helped me in the growth phases of my coaching business, she has been inspiring and helps feed my creativity. She has helped my look at myself and my coaching in a much more powerful way to how I was previously practising. I am most grateful for an incredible period working together with Christine, it has been life changing.

Lindsay Rocke, Transformation Coach. Chester, UK
Christine has helped my to get a perspective on all that is going on in my life. She has helped me to slow down and focus my attention on the important things, the things that are meaningful and the things I enjoy. She has helped me to refocus the word 'should' and find ways to just 'be'. Christine has helped me find my purpose and develop both my business and personal goals.

Harriet Jordan-Wrench, Founder, Secret Sessions. London, UK
Physically, I pushed myself to start running more & ultimately completed a half marathon. Health-wise, I've learned the importance of eating clean - being conscious of good eating habits while also being kind to myself. Spiritually, Christine's continued reminder of the importance of meditation & journaling has helped me stay grounded, recognize & note my own "mind clutter", and truly explore new understandings of what it means to "live in purpose" through poetry & free writing. Romantically, Christine helped me to see the importance of being playful, letting go of worry & expectation so that I could just have fun –I've ultimately met & started dating someone and after 6 months with this person, she continues to help me grow in that relationship through open communication & empathy. And lastly, perhaps most importantly, I have moved from a place of confusion & doubt in my job to, so very appropriately, just getting a job description approved yesterday (a day before our final session!) which is 100% composed of responsibilities I am passionate about, energized by, & excited to take on! I start on Monday!! Now if that's not 360 growth & change, I don't know what is.

Francesca Johnson, Director- Development & Production, National Geographic. London, UK
This coaching experience has awakened me to more of my own inherent gifts, in particular around health, fitness, motivation and entrepreneurship. I feel more confident in these areas and a true opportunity to share them with the world in a way I've never felt before. It's opened up this whole world of "coaching" or mentoring which, in a way, is the role I'd like to take as an entrepreneur by helping others achieve their dreams and goals be it health, or business focused. I feel called to move towards that work, and I am grateful to Christine and this small group coaching experience for opening up that possibility for me.

Sean Fay, Founder, Truth Bar - The Probiotic Nutrition Bar. Seattle, USA
Our coaching has taken me from a career where I played myself mediocre, into a powerful belief and proof that I am capable of creating anything I want. It has changed my leadership style to be inclusive, create powerful teams by practicing deep listening and asking questions. It has led me to deeper, and more meaningful conversations, which has led to better relationships. The major breakthrough was to get to know myself on a deep level, understanding my triggers and how I was holding myself back. Changing my limiting beliefs to inspiring beliefs, and stepping out of my comfort zone in first-hand experiences, learning that is where miracles happen. Our coaching has led me on to a powerful new journey, leaving my corporate job and become a solopreneur and international speaker with my own voice and appearance. Living my life intentionally and from my core values.

Rita Hausken, Leadership Strategist and Coach, helping women leaders to create more influence in male-dominated industries. Stavanger, Norway