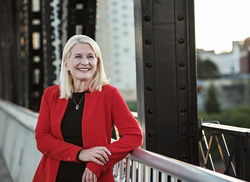 Christine Rose

Tacoma, Washington
Business Coach, Entrepreneurship Coach, Executive Coach
Certified Value Builder Advisor, Core Values Coach, Psychological Safety Coach
CEOs of $1M+ revenue companies hire me to help them strengthen leadership skills, improve teams and culture, streamline strategy, increase value, overcome obstacles, crush their goals and love life!
About Me
I coach owners of SMEs to go from frustrated to freedom, improving leadership skills, and growing profitable, high value companies. My "secret sauce" that helps business owners get the results they want is my unique blend of:
• almost half a century of life and business experience, knowledge, and lifelong learning
• masterful coaching skills that help clients go from revenue declines to multiyear growth
• authenticity, unconditional support, accountability
• deep curiosity (I ask clients questions nobody has ever asked them)
• results orientation guaranteeing clients a positive ROI, or a refund.
I offer clients access to a selection of highly reliable tools to unlock the doors to be able to know themselves and their teams at the deepest level, create safe and innovative cultures, hire and retain top performers, and identify actions to take to grow high value companies. We work weekly or biweekly on Zoom. Programs are customized to meet each client's needs. Clients gain confidence, self-awareness, clarity and vision. Empowered teams solve problems and deliver on promises, and create and dramatic results for the business including multiyear growth.
Professional Highlights:
• Credentialed by International Coaching Federation and honored as Top Business Coach of 2019 by International Association of Top Professionals
• Tacoma's Small Businessperson of the Year 2019 and nominated for 2020
• Invited member of Forbes Coaches Council - content on Forbes.com and a number of other national publications/websites
• Frequent guest speaker heard on Biz Talk Radio, National Business Radio, ACC Global News Radio, CloseUp Radio, Life Transformation Radio and other podcasts
• Business blogger, author of Life Beyond #MeToo: Creating a Safer World for Our Mothers, Daughters, Sisters & Friends (2019), endorsed by Jack Canfield and Marshall Goldsmith, co-author of Cracking the Rich Code, Vol.4, endorsed by Tony Robbins.
Create your best future, book a free strategy session.
Reviews
Christine is an amazing coach, our sessions were packed with strategies and tips to successfully launch my business. Christine was like my backbone early on, she helped instill the confidence in me to press forward; early on we identified my mission and my life's work while overcoming obstacles. With that foundation I've created a website that I'm proud of and have begun marketing online. Christine is a wealth of knowledge and inspiration and is an excellent coach. I am most grateful for the time we have spent together.

Mary Zennett