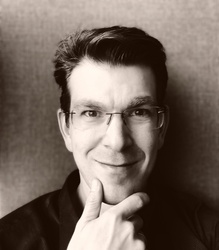 Christopher Spalek

Hamburg, Hamburg
Performance Coach, Executive Coach, Leadership Coach
MS, Dipl.-Ing., Project Management Professional (PMP), Certified Performance Coach, Associate Certified Coach (ICF)
I enable managers and specialists to successfully pick-up new roles, manage their teams more effectively, and execute new strategies. I offer +20 years of international leadership experience (en/de).
About Me
[Online Coaching in English and German]
My clients enjoy working with me because I understand their issues and mind their viewpoint.
I have been there and can relate to your professional issues.
- uneasiness with conflicts and friction in teams,
- uncertainty and anxieties in a new company, role, or even country
- the weight of expectations to be sufficient, pull off the new strategy and implement change
And this can quickly impact your private life, too. It results in a work-life IMbalance, family and relationship issues, burn-out, frustration, and more.
You can take over control of your life and be on top of things. I helped many people be again in the driver's seat of their life and have a clear perspective of where they are heading.
I work with people from various industries and life situations who want to take the next step in their career and improve their overall performance.
And my +20 years of leadership roles equipped me with a vast toolset to support you.
Working in major companies with extensive travel around the world and responsibilities in various cultural environments gave me the chance to see life in many facets, both enjoying and challenging. So I can speak to you from multiple positions and relate to many of your topics resulting in an effective and trusting relationship.
Most of my clients appreciate having a coach who understands where they come from and where they want to go, especially when this is the first-hand experience and not a scrip from a book.
Reach your goals, and let's create your perfect journey.
I have used this approach with my coaches, too, and it helped me reduce stress levels, find more time for my family and hobbies, lose weight, and improve my health. I also achieve my personal and business goals without feeling overwhelmed and stressed.
Act now! Waiting doesn't help you.
Finding out what my coaching can do for you will cost you only a few minutes of your time.
I am looking forward to working with you.
Reviews
5 reviews (5.0)
I have had the opportunity to enjoy Christopher's coaching sessions. He has all the tools to let you explore yourself and helps you to get to where you want to be. Besides asking the relevant questions, giving accurate advice, he is also able to let you make extra steps. It is a pleasure to work with him.

Susan
I have had the pleasure of being coached by Chris; I found his coaching ability exceptional and his capability to seek out the goal behind the goal is so far unrivaled. Chris has an innate ability to ask questions that dig deep into my psyche and extract information that I then used to solve my challenges. The way he built a trusting relationship allowed me to feel safe within the coaching sessions, allowed me to express myself and create my own solutions freely. If I have any future challenges to work through, Chris will always be my first-choice coach.

Richard Forde
I worked with Christopher on my procrastination and lack of focus. At the beginning of our sessions I tried to accomplish everything at once and got distracted as I tried to please everyones requests. During the coaching we worked out approaches which worked for me. Chistopher didnt tell me what and how to do it but we developed together ideas and put them into action. Subsequently Christopher followed up with me so that my new behaviors became routine. My approach to meetings and to tasks has changed. I keep schedules and complete what I promised. This helped me also to advance in my career as I got more and more positive feedback from my supervisors. I will work with Christopher again.

Mark, HSE manager
I struggled with my presentation skills especially in front of top executives. Christopher helped me to focus on my strengths. After some weeks of coaching and implementing our actions I felt much more comfortable and gave better presentations. Thanks a lot. The coaching improved my career significantly.

Wenjuan, Consultant, Hubei CN
Working with Christopher helped me balance the many challenges that arise from starting a new business in a new area. We looked beyond the obvious and co-created a new strategy how to balance work and family life and, at the same time feeling less stressed. I now have a clear focus on what is essential in life and follow through. Christopher knows about the differences in cultures and understands how it was for me to start a new life in a new city. I enjoy working with him and recommend coaching with Christopher to everybody who wants to start something new.

Jessica Chen, Freelancer, Hamburg