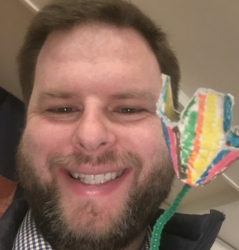 Relationship Coach, Career Coach, Family Coach
LCPC, Motivational Interviewing Certification
You are not getting the love and appreciation you deserve from your family, life partner, or workplace. You keep giving and keep feeling stuck. The Wikipedia entry for "burnout" features your photo.
Details

Orono, Maine 04473
2073555269
Send Message
Hourly Rate: $100 to $150 US Dollars
Gender: Male
About Me
If the phrase "careening toward burnout" describes you in relation to your life at home or at work, contact me immediately. "Burnout" is best described as that empty, soul-crushing, depressive feeling you get when you give and give but continue to feel unnoticed and under-appreciated. If you've already burnt out, you've probably done something drastic to your life and are now looking for help digging out of a hole.
The fix is to get very honest with yourself. My clients describe me as blunt but constructive... understanding but challenging... respectful of the person but irreverent of practically everything else. I use a lot of wit and humor to drive home serious points, because sometimes half our problem is taking ourselves too damn seriously, and because there's no point in droning on with boring lectures full of half-baked advice. I can provide an honest, unbiased, and informed perspective on your life without insulting your intelligence or wasting your time. Most of all, I teach you to be fair to you. Your therapist may try to get you to "love yourself," but first you have to get up off the floor and respect yourself.
I have 15 years of professional experiences helping people rebuild careers and helping families and couples get along better and feel more connected. More importantly, I have more than 40 years of life experience navigating some pretty messed up burnout situations, including relationship burnout. After a lot of soul-searching and hard work to grow from numerous excruciating failures, I'm here to pass along my wisdom to you.
Reviews
3 reviews (5.0)
Chuck has been an excellent coach and a tremendous help over the years. He is very good at listening and providing feedback. Chuck goes the extra mile by providing external resources and scheduling accommodations. I would highly recommend Chuck to anyone seeking a friendly and knowledgeable guide to aid you on your journey!

Tom
Chuck is a very genuine person and an extremely effective coach. I've known him personally and professionally for many years. He is insightful, intuitive, patient and very skilled. I cannot recommend him highly enough. I know those he coaches will receive strong guidance and tools from a remarkably patient and empathic coach.

Jim LaPierre LCSW, CCS
Chuck has amazing skills in helping people to grow and overcome challenges. He is able to offer input and help provide some direction in order to help. He has been an amazing support!

Wally Fraser