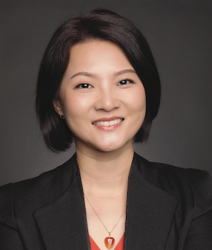 Leadership Coach, Career Coach, Performance Coach
Agile Certified Coach, Marshall Goldsmith Certified Coach, Global Leadership Assessment (GLA360), John Maxwell Coach
I coach leaders who are struggling to maintain the edge they need to reach the next peak. They might be caught in many paradoxes and are losing control. They want to get unstuck fast.
Details

Hourly Rate: $400 to $600 US Dollars
Gender: Female
About Me
Are you a leader who is smart, resourceful and motivated yet lately has been feeling overstretched, frustrated and stuck? You might have found it easy to get to where you are but you are noticing that things seem to have come to a grinding halt. You are wondering what will it take for you to reach the next breakthrough in life.
The reason you are feeling this way is that you have entered a different season in your life but are still using strategies from the past. Circumstances, challenges, expectations and goals have changed. It is another ball game altogether and to continue to lead with an edge, you need to refresh your strategy and that we need to unlock your wisdom.
The question is, does working harder, longer, translate into better results? What else is important in your life? What are the rules of engagement in the game of this season? Can you be a female leader in only one aspect of your life and not in others? You must find an effective strategy which allows you to generate holistic results quickly, without losing yourself and burning out.
Here is where I can support you. My coaching program will help you gain clarity and design a future you truly want. As we work together for 6 to 12 months, you can expect to determine the changes you want and make them happen. You can expect five stages in the program:
1. Awareness
2. Compelling goal
3. True acceptance
4. Breakthroughs
5. Empowerment
We will work hard together and uncover your valuable essence which can transform your leadership.
You will find it a breeze to work with me as cultivating good leaders by working from the inside-out is central to who I am. With more than a decade of experience in academia, specializing in youth leadership and lately, adult learning design and training, I am the coach who will truly be able to relate and support you in your leadership transformation journey towards empowerment.
Reviews
11 reviews (5.0)
I was at a very low point of my career when I realized I have been in the same role for too long. At the time I believe the years of experience I have doesn't match the skillsets I have developed, which undermined my chance of a successful career. I was having a hard time finding directions as to what's next. Once I started being coached by Chuen Chuen, I started to look ahead instead of backwards. Chuen Chuen had also taught me to be accountable for the role I am in. I became much more motivated which led to me become very proactive at my workplace. The transformation was noticeable by my direct managers and people in my peers. I got good praise on the back of that and that got me started on an upward spiral. Chuen Chuen has an amazing ability to connect with people and to understand who they are and how one can be successful just being their positive self. She taught me to stay true to myself. Instead of providing a stereotype profile and teach me to copy it, she spent the time to explore who I am, what motivates me, and what my brand should be based on my strength. She taught me to believe every individual has a purpose in life and we should dig deep into our mind to find that purpose as that is what really drives us to wake up every day to give our 100%. She is someone who keeps me bright and sunny and have a positive mindset every day. I now take matters into my own hands, blame no one, instead of focusing on why it happened to me I seek solutions and positive changes to create a better future for myself and my family. My physical health and mental health improved significantly; I exercise more than I used to be. Most importantly, I no longer count the hours of the day, days of the month. I have a clear goal of where I want to be and how to get there. Life seems to have meaning again.

Chun, Veteran Finance Professional
Before I started coaching with Chuen Chuen, I was a full-time self-employed freelancer whose approach to work was very passive. The work I had as a freelancer was not stable and I was alternating between two extremes - no income with lots of free time versus good income from large projects but zero time. I had no control over my earnings and time. I knew that I needed to change my work patterns and habits if I wanted a more balanced life and enough income to sustain the kind of lifestyle I wanted for myself, including retirement and emergencies. But I lacked clarity on the areas of change needed: I had many different ideas of what needed changing but did not know what to prioritise. That was when I started shopping for a coach. Chuen Chuen is a very good listener who is able to sum up the gist of my thoughts and ideas, ask pertinent and incisive questions, and offer suggestions and points of view. A coaching session with her is somewhat akin to being a driver sitting in the driver's seat with Chuen Chuen acting as the car's GPS navigation system. I may follow her suggestions to take specific actions, but I am ultimately responsible for my own actions and choices. Every session with her was preceded by a reflection on the areas I wanted to discuss in that particular session. Each session helped me to identify clear actions to take. I find the coaching sessions with her very empowering. I now have a sounding board to test my ideas before taking action. Having regular coaching sessions also provided me with accountability in following through on the actions I said I would take. After more than four months of coaching (six sessions), I have become much more proactive in the development of my chosen career. There is greater work-life balance, average income has increased, I am focusing on areas of work where my strengths shine, and self-confidence has grown. I am taking leadership and ownership in developing my professional competencies and skills and letting more clients and people know about my services and skills. My mindset has changed from that of a passive service provider to that of a business owner who is actively engaged in growing my business and is responsive to new opportunities that come my way. During downtime when there is no ongoing project, I am engaged in studying, training, networking and business planning instead of doing non-work related activities. I am excited to see where this will lead me.

Wei, Self-employed freelancer in Singapore
Chuen Chuen is warm and friendly, always listening without judgement, and I feel very comfortable to share my thoughts. She is able to guide my thinking to delve deeper into the issues discussed. She also provided insights into a bigger picture perspectives by providing space for me to make connections between what was shared at each session. I had some deeper understanding about myself and how my values came into play in my daily life. I could relate it to some of the challenges I was facing and understanding how I was standing in my own way. I also gained clarity on my direction to move forward. I stopped pondering over some issues which had been bothering me after I gained clarity on the possible causes and am willing to face and accept it. I also became more aware of my strengths and weaknesses, which helped me be more confident at times and seek help/advice when needed. I become more self-aware and can pursue my goals with deeper clarity.

Sheryl, Administrative Manager, Singapore
I was coached by Chuen Chuen when I was looking for clarity for a career change. She is patient and sharp to look beyond the 'superficial' & had helped me break down what I needed to focus at a deeper level. In addition, She has helped me translate my goals into bite-sized tasks, making them easier to achieve at any one time. Through the coaching partnership, I learnt to question myself deeper and has also learnt to understand myself better. I was able to change my job and look into my relationship problem, all within just about 8-10 sessions.

Geraldine, HR, Singapore
Chuen Chuen was absolutely professional in our coaching relationship. She was welcoming during each session and made it very easy for me to open up and have honest conversations with her. I looked forward to each session and have walked away from our conversations, feeling clear and motivated to take actions on issues we have discussed. She was patient, and supported me as I unpack (and calm) my messy thoughts. Her questions were thoughtful and goal-driven, often inspiring new insights and discovery. I've also enjoyed some of the challenging questions she posed, which left me empowered to expand my thinking about the issues. Chuen Chuen helped me to evaluate and reframe some of my underlying concerns and mindsets to create the awareness I needed for my learning. She gave me plenty of space for self-discovery, reflect and explore my thinking and options, which I've found to be really helpful when designing actions moving forward. Overall, her presence, patience and supportive nature have helped me shaped new thoughts, identify areas for growth and possibilities, which I am really excited about.

Nurhaida, Personal Development Coach, Singapore
I found the four sessions with Chuen Chuen very useful and practical for me. I am highly satisfied with the results. Chuen Chuen is able to help me to sharpen my thoughts and to find practical solutions and ways forward to challenges that I face day-to-day at the office. I was already impressed by the results we achieved together after my first one-hour session. She was focused and supported me to identify objectives for each session and to reach those objectives by the end of each session. Overall, I noticed that I was more focused at work and had a stronger sense of the value of better balancing work and life commitments.

Mollie, United Nations FPA, Myanmar
The best way to describe Chuen Chuen's coaching style is clear, focused, and intentional. She held the space for me very well with her thoughtful presence and with her strong questions encouraged me to look at my presenting issue. She was always calm, focused and present. The powerful questions she asked helped me to realize what I really needed to solve some issues/concerns I was having. Her competence at coaching was evident which was enjoyable to experience as a client!

Debbie, End of Life Coach, United States
Chuen Chuen's coaching style is gentle and encouraging. She is supportive, positive and understands the challenges I am going through. She shows empathy which is helpful in supporting me through my coaching partnership. The coaching partnership with Chuen Chuen has enabled me to have clarity and realistic expectations of my goals. I have become more motivated to start work on a project which I have been delaying for a year now and achieved quantifiable results during the period we worked together. This coaching partnership has been helpful in making me accountable and responsible to continue working on achieving my goals and challenge my self-limiting beliefs.

Faridah, Trainer, Coach, Counsellor, Singapore
Chuen Chuen has a gentle empathic coaching style, combined with highly accurate listening and precise, insightful questioning. Working with my natural resources and supporting me as a whole person, she helped me get to the essence of what is most important for me and helped me create strategies that will move me forward in any area of life. She allowed me ample space to explore my own reflections and meaning-making, while listening with close attention to the language I was using. When she challenged me, her questions emerged naturally from the story I was telling and where I was. This made me feel fully heard and supported and in many instances I was then able to push through to new and powerful realisations.

Sophie, Life Coach, Australia
I could really see the improvements in my life weeks after weeks after having talked to her. She made me accountable for my actions and was always supportive in-between sessions when needed... I got clarity towards my goals, get more self-confidence, felt motivated and supported. When I couldn't commit to my goals Chuen Chuen remained always judgment-free which motivated me, even more, to go back on track. -

Helene, Life Coach, Geneva, Switzerland
This was my first experience with coaching and I found it extremely useful in helping me deal with a very difficult situation at work and transiting to a new position. We spent our sessions looking at work-related transitions and managing interpersonal tension. Chuen Chuen was an excellent coach, a good listener and she asked relevant questions at the right time which made me reflect on my own experience through different perspectives. She helped me handle a very difficult situation at work. One of my sessions with her was a turning point for me and really helped me a lot. After my first session, I implemented some of her tips to address some situations at work. After my second session, I tried to look at my own situation with a much more positive outlook. I have successfully transitioned into a new position and I am much happier and effective now.

Catherine Phuong, Assistant Country Director – Governance and Participation, United Nations Development Programme,Vietnam
The Smart Way To Find A Coach

1 Describe Your Goals

2 Get Matched

3 Free Consultations
Find My Ideal Coach Now