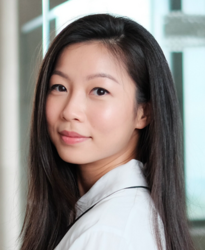 Dr Clara Teo

Kuala Lumpur
Life Coach, Performance Coach, Career Coach
Bachelor of Medicine, Bachelor of Surgery (MBBS), Energy Leadership Index Master Practitioner (ELI-MP)
The pandemic has made us question what is really important to us. I work with entrepreneurs and professionals looking to navigate the turbulent waters ahead and live a life that is true to themselves
Details

Kuala Lumpur
+60166472568
Send Message
Hourly Rate: $100 to $150 US Dollars
Gender: Female
About Me
My mission as a life coach is to help my clients uncover the best version of themselves. Through an individually curated program, I seek to help my clients break through barriers, achieve their goals and ultimately, live a life that is true to themselves.
I am fortunate to have had my start in medicine. The 30 hour shifts and countless sleepless nights taught me resilience. Dealing with suffering and death taught me compassion and empathy. Having to operate in a high stress, dynamic environment taught me to trust my intuition and instincts. With my background as a medical doctor in neurosurgery, I am able to incorporate my medical understanding of the human brain with the tools and tactics of coaching to achieve real, lasting changes in my clients' lives.
My clients have the potential to be the best version of themselves and I want to work with them to unlock every opportunity for growth.
====================================
What is Energy Leadership™ Index (ELI) Assessment?
As individuals, we view the world through filters (based on our experiences, values, assumptions, etc.). Those filters will either limit what we see (like tunnel vision) or expand what we see (like a prism) and, thus, impact how we perceive and what we think about our circumstances. This, in turn, impacts how we show up in different situations.
The ELI assessment reveals what specific filters you've developed and how those filters are influencing the results you are achieving. The ELI assessment is the proprietary, research-backed assessment tool that takes something abstract, like the way a person views the world, and turns it into something tangible—a metric that you can see and feel and even reevaluate in the future.
I am a certified Energy Leadership™ Index Master Practitioner (ELI-MP). Earners of the this certification have completed the training necessary to coach and debrief clients utilising this researched, proprietary tool.
Reviews
11 reviews (5.0)
I had the privilege to start my journey with Dr Clara earlier this year - it has been eye opening and thoroughly satisfying to uncover my underlying motivations and values. Even as some of the conversations get difficult and uncomfortable, Dr Clara has provided a safe space where I feel unhindered in expressing myself and my thoughts. The experience has helped me to better understand myself and how to channel my focus. It has also improved my awareness on how to hold myself accountable. I strongly encourage everyone to give the experience a shot; to make the most out of it, you would however need to be ready to be open and honest, as she is helping you to face yourself and become your best you.

Delia
I had two coaching sessions with Clara, and we focused mostly on career coaching. I found Clara to be very perceptive and quick, she was able to understand me immediately and helped put my scattered thoughts into simple (and accurate) words. These sessions also forced me to clarify my own thoughts to myself, as I now realized that I have been carrying my parents'/society's inner voices instead of my own. I highly recommend getting Clara as your coach, especially if you are between careers or feel stuck in some areas of your life, you will definitely gain something from it :)

Sabrina
Clara has not only helped me gain deep insight into my habits and thought patterns by asking brilliant questions but she also demonstrates a high level of listening. Despite my verbal processing, she is able to hone in quickly on my core issues and bring it to my attention in a professional and non-judgemental way. She is a master at creating a safe and comfortable space which really helps me open up immediately. The energy she brings into every session is always so encouraging and positive that you can't help but truly believe in yourself!  On top of all that, she's proved herself versatile in her execution and excellent guidance of all types of issues! I've gotten coaching on relationships, time-management, self confidence, trust issues, my own coaching business, etc and each time she's been amazing at helping me work through the blocks.  Talking to Clara is like talking to a best friend who exercises tough love while sincerely having your best interest in heart. What I really love is that she's not afraid to ask the questions that will push you to explore deeper and harder within yourself.  In the end, no matter how hard and scary it feels, you know she's by your side, cheering for you so you never feel alone.  Thanks to her, I feel much more stable and definitely more confident in all areas of my professional and personal life!

Jennifer Chow
Dr Clara has helped me achieve clarity and breakthrough both from a personal and professional standpoint. She is a wonderful listener and asks powerful questions that has allowed me to reflect deeply on various areas in my life . Not only that, I am thoroughly impressed by her prowess in navigating the wide variety of issues/ topics brought up during our sessions and provide different frameworks/toolkits to break down the issues effectively. Her ability to remain empathetic whilst objective are also traits that make her such an incredible coach to work with. I would highly recommend Dr Clara's life coaching services to anyone who is looking to elevate their personal and professional growth.

Janice T
I can't speak highly enough about my time with Dr. Clara. She helped me discover myself to a much greater degree and ultimately understand my worth.

Renee
I am currently at my 7th or 8th session with Dr Clara and it has been great. Dr Clara has helped me tremendously during this time, especially in helping me open up to my deep rooted issues. She is able to articulate information quickly and draw insights from them immediately during each session. I have gained so much from each session. This is not a I tell you what to do and you do it kind of coaching. Dr Clara helps by facilitating in your thought process and how to think / look at situation in a different manner. I found that so helpful for both my personal and career life. Thank you, Dr Clara! I really so much improvement in my thought process and have been making better decisions / actions.

Emily Khor
Clara is an incredible coach who is insightful, intuitive and have so much to offer. Her powerful coaching method allows me to ground in my being while gaining clarity to the problems at hand. Clara is always fully present in our sessions and holds a safe space for me to explore different facets of my being. I really enjoy Claras coaching as her wisdom often helps me to move pass obstacles and move forward in different phases in life. Her non-judgemental attitude also allowed me to dive deep into the core of the topic and allows transformation to happen. I couldnt be more grateful for our time working together and have learnt so much from her. I highly recommend her coaching services.

Irene Wong
After every coaching session with Clara, I leave feeling clearer and lighter both in mind and body. The clarity and insights I have gained through partnering with Clara and having her acknowledge, validate and reflect my thoughts back to me so eloquently and clearly, have allowed me to tap into an even deeper level of understanding myself. Claras ability to hold and create a safe space for sharing has allowed me to be vulnerable and to unburden myself without any judgment. When I sometimes feel self-doubt, having Clara celebrate and champion me has helped me to boost my confidence and feel truly empowered towards achieving my goals. Clara has helped me become both a better person and a coach, I cant recommend her highly enough!

Vanessa Fong
Having someone acting like a mirror for you really helps. Dr. Clara did just that. She sheds light on several unexplored areas you leave unattended and help you find inspiration from there. I feel both enlightened and empowered.

Harith Abd Rani
Clara is a wonderful coach. With warmth and skill she creates an environment that is conducent to deep digging, significant breakthroughs and transformation. Thanks to her I was able to have an honest look at the situations that needed attention and regained confidence in the use of my own ressources to address matters with a mindset true to my nature. I would recommend Clara as coach to anyone trying to navigate transitions in a demanding personal situation.

Carolina Gerding
It was my very first time to be coached by someone, and Im glad it was Dr Clara. Dr Clara being in both worlds : a doctor and a coach, she knows real life experience and help you obtain the best version that you didnt know you had. Which I feel is definitely a plus point for me. At first, yes I was nervous, because I didnt know what to expect. But Dr Clara made it as simple as ABC, no kidding.. sometimes its just best to trust the process and let go, and then such best results appear! On one of the sessions, I still remember vividly, I was having such a horrible low mood that particular day, from being an 1/10, I almost decided to not show up, because I didnt feel like it. I forced myself to, and thank God I did. She went through a lot of things with me and exercises, lifted my mood instantly. I would say I was smiling a 9/10 at the end of the session. Thats how powerful the session was. Dr Clara really brought out the best of the situation. Dr Clara indeed takes her time with me, and goes through what I need best (even I didnt even know what I needed at times). She always knows how to express things which sometimes because of the clutter in my brain, have no words to explain. The feeling I get after every session is somewhat unexplainable which makes you feel great to carry on. The above is my honest review and that you too need to give Dr Clara a try to experience the journey yourself!

Jennifer Kaur