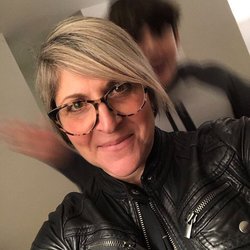 Clare Mottola

New York, New York
Life Coach, Relationship Coach, Career Coach
MFA
My coaching creates space for you to move past the noise in order to know yourself, your worth, and your potential so you can live a life with less stress, more insight and lasting impact.
About Me
Humble human, parent, partner, director, teacher, coach, student, Clare Mottola (she/her) continues to marry her seemingly unlikely professional paths. Amidst a long and winding career as a theatre artist and educator, Clare felt called to the mat. In 2004, she began to dip her toe into a Yoga practice but life's twists and turns interrupted that start. The loss of a parent and birth of a child within a year left her feeling too overwhelmed to even fathom "sitting with self." Silly Clare. It was not until her second son was born in 2007 that she followed a call that ultimately led her to to study with greater discipline, practice more fully and ultimately to teach and coach. Clare is now a 200-hour Certified Yoga Teacher and a Certified Professional Life Coach, working with students and clients of all ages and backgrounds. She has been lucky enough to study with Mindful Schools, Jack Kornfield, Jon Kabat-Zinn, Dan Siegel, Ethan Nichtern, and more. Most recently, Clare completed an MBSR training. Her teaching, coaching and practices embody the inextricable marriage of studying the mind, body, breath and heart. Clare seeks to co-create space that is equitable, courageous, playful, and full of radical love. As a coach, Clare's purpose is to use her empathy, creativity, and collaborative skills to listen, guide, and call clients in.
Reviews
Clare doesn't have any reviews yet.