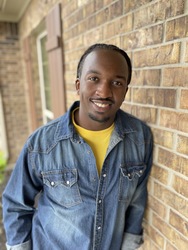 Clarence Green

Houston, Texas
Life Coach, Relationship Coach, Family Coach
BA, Certified Life Coach
I work with singles that want to form positive habits in their lives. I help them by creating healthy expectations and plans in order to gain a peace of mind while being confident in their decisions.
About Me
Have you been frustrated with how your life is going?
Felt stressed or discouraged in your current situation?
Losing or lost confidence in yourself?
If so, then I am the guy that want to accompany you on your journey to remove these blocks. I want you to take back control of your life! I specialize in personal and relationship coaching, but more importantly: I am here for you to be the best version of yourself.
Are you wanting help to get over these blocks in order to live a more fulfilling life?
I want to work with you to gain self-love, confidence in your abilities, and assurance in all that you do. I coach these specific areas because I have overcame these obstacles myself. I was a collegiate athlete in my prime and knew I would find my college sweetheart, get married by 23, and live a great life. It didn't happen that way at all. It was daunting to think I could possibly be single for the rest of my life. Then one day, my outlook changed.
I know that it is a process and you must be willing to take that first step. I will meet you where you are in life and take the journey with you only when you are ready.
What techniques/tools do you use?
I create personal techniques catered to your strengths in order to have better results. It's ineffective to look at what we perceive to be our weakness, so let's hone in on the things we are good at. I understand that we are all unique, and face different challenges in our lives. My method is to collaborate with you in order to create a plan that is manageable and help alleviate stress, anxiety, or anything else that is a burden to you.
What should you expect from working with Champ?
When choosing to work with me, you are going to gain an energetic, passionate coach who genuinely cares for your well-being. I believe that with the proper mentor and/or coaching, anything is attainable. I am punctual and don't like to waste time. I am here to help you be in a healthy place so you can thrive in your life.
Reviews
Throughout our meeting, I could tell that Clarence was actively listening and patiently formulating solutions, as opposed to quickly offering up advice. It is obvious that he cares about my well-being and his unique background has given him insight into areas that most others cannot speak from. I wholeheartedly can say, without any hesitation, that he is well-worth speaking to!

Clayton E.