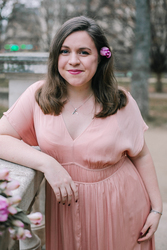 Cliona Byrne

Paris, Ile-de-France
Life Coach, Entrepreneurship Coach, Relationship Coach
I coach people all around the world to start loving their bodies and to boost their confidence. Have the confidence to do, wear, and be who you want.
About Me
Hey there, my name is Cliona Byrne and I'm a body confidence coach. I help people who want to feel beautiful, to shush their inner body critic, and to soar their self-esteem. I help my clients to stop comparing, get validation from themselves, and to start knowing that they are good enough.
After receiving my coaching clients feel empowered to have a positive relationship with themselves.They know how to do self-care, be sexy confident, and wear what they want.
When clients work with me they learn how to hack their physical mindset to accept their bodies and build their confidence.
I coach people all over the world to start loving themselves and to boost their overall confidence so they can have fulfilling lives, careers, and relationships.
Cliona Byrne has recieved a diploma in coaching from Coach4Life and has numerous other related certifications in mindfulness, stress management, and meditation. Alongside coaching, Cliona teaches workshops and hosts retreats.
Cliona's coaching specialises in body confidence, expat coaching and creating calm and confidence.
Reviews
4 reviews (5.0)
My experience with Cliona Byrne as my coach was excellent. She was always extremely professional, truly listened, and made me feel 100% at ease. It was my first time to see a coach so I didnt really know what to expect from the experience, but I am so glad that I chose to do it with Cliona! She helped me define what I need in my life and how to make it happen. I did 8 sessions with Cliona and now I do a session once a month to keep me on track during my current transition period.

Jacqueline
After living in Paris for 3 years I decided that it was time to return to New York. Id heard that a lot of people go through reverse-culture shock when they return home. I spoke to a colleague about my fears and they suggested meeting with Cliona for coaching. Id never tried coaching so I wasnt really sure what it involved but it was the best thing that Ive ever done. Cliona helped me map out how I wanted to live my life once I got back to New York, my expectations, and what I needed to change. I started coaching with Cliona before I moved home and then we continued once I got back. It was so helpful during the transition and made everything so smooth and easy. Go and see Cliona if you are going through a transition period and need some help. Cliona has been an expat in a few countries and understands and the feelings and problems that every expat goes through.

Dana Schmitt
During my last few months in Paris, Cliona coached me on how to make the most of my time here and to also plan my return to Canada. Cliona made the transition of going from being an expat to returning home so much easier. I knew that it was going to be a massive transition in my life and I needed help on figuring it all out. Since arriving home, Cliona has coached me through finding my ideal job, making new friendships, and starting my own business. Im so glad that I invested in coaching because it helped me unravel my thoughts and to set out achievable goals.

Heather H
I spent my first year in Paris floating around and struggling to figure out what to do with my time and how to live my new life. My husbands work was the reason we moved here and I didnt know a word of French. It is the first time that Ive lived abroad that I was naive enough to think that it would be straight forward and easy. After a year of my life drifting by and having achieved nothing I decided that it was time to see a coach. Cliona Byrne was recommended to me by another woman I met who had experienced the same struggles as me. Cliona helped me to figure out how I wanted to live my ideal life in Paris and what I wanted to achieve while here. She asked me all the right questions and made me realise so much about myself. I decided that what I really wanted was to go back to university and get a MBA and then to start my own business. Ive also made friends and started to become quite good at French thanks to Clionas coaching. Ill be back for more coaching once Im ready to start setting up my business.

Christine Brown
The Smart Way To Find A Coach

1 Describe Your Goals

2 Get Matched

3 Free Consultations
Find My Ideal Coach Now