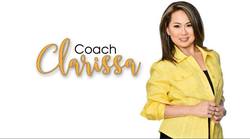 Coach Clarissa Calingasan

Kamloops, British Columbia
Money and Finance Coach, Relationship Coach, Leadership Coach
Fitness Coach, International School of Ministry, Certified Behaviour Specialist
If you are ready to welcome Your Best Life - Be Happier, Healthier& Wealthier, Coach Clarissa is empowered to help you develop your Leadership in all aspects of your life; Find Balance & Succeed.
About Me
Coach Clarissa
*Author, International Speaker, Life, Business & Finance Coach*
A pioneer in the "Law of Attraction movement" Clarissa got her start with some of the biggest names in the industry and has since built a multi-faceted entrepreneurial life around helping others live happier, wealthier, healthier lives. What does that mean exactly?
It means Clarissa is a successful life coach who practices what she preaches and lives a life that demonstrates you really can have it all. A multi-passionate athlete, best-selling author, Civil engineer, investor, and proud wife and mom, Clarissa uses life to demonstrate what she knows to be true: With the right mindset, skillset, and toolset, and with an experienced coach on your side, anything is possible. Clarissa's most happy when she's adding value to others, helping in the development of how people think, feel, and act towards achieving their success. As a success enthusiast and with her admirable work ethic, her clients called her a manufacturer of achievers. A multi-passionate leader, a coach that can bring you to where you want to be and inspire you to what you can achieve and encourage you to do want you can.
Reviews
Coach Clarissa doesn't have any reviews yet.