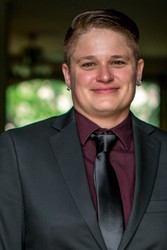 Business Coach, Life Coach, Leadership Coach
Life Coach Certified, Project Manager Certified
Are you a business owner struggling to find balance between your personal & business life? By setting realistic goals & healthy boundaries our journey together will illuminate the stability you seek.
About Me
As a business owner, you are the captain of your ship. Your business cannot steer for you, it cannot adjust for wind speed or storms without you, and it cannot dodge icebergs without you. This level of responsibility requires a clear head and an open heart. There is an undeniable spark in each and every one of us. That spark is what drives us, what inspires us, what pushes us forward in the face of adversity. Sometimes, that spark can seem to flicker, shrink, or go out altogether. I am here to help you see that your spark is still inside of you, and ready to shine bright for you. Through self-discovery, alignment, and healthy habits, your spark can light the way to your ideal life.
My journey has been a natural evolution of passion. I started my business 7 years ago to help sole proprietors and small business owners start, refine, and scale their businesses. I offer a number of services related to owning a business, including branding, marketing, operations and logistics, and business management. The more business owners I worked with, the more I saw the need to take care of the business owner, just as much, if not more than, the business. And so, the next evolution of Crum Consulting emerged; I now offer Personal Development and Life Coach services. The vast majority of my clients are business owners. However, I also specialize in LGBTQ, Veterans, ADHD and other neurodivergents, and introverts. Nothing fills my cup more than helping someone who shows up for themselves.
I have a rich family history of care-givers, leaders, and GRIT experts that raised me with the same ideals. This foundation carved my path towards 20 years of polished leadership skills, starting with the U.S. Army as a Military Police Officer, and expanding all the way to executive level positions, and most recently as a multi-business owner. I have been working with business owners of all entity types for the last 7 years through my consulting business as a business advisor and manager.
Reviews
3 reviews (5.0)
I recommend Crum Consulting in the area of life coaching in the highest regard possible. My journey with Cole began a little over a year ago and I cannot emphasize enough the role her life coaching has played in my business AND personal life. As someone who is filled with passion and creativity but is terrified by the world of business - Coles life coaching helped me overcome some huge fears while helping me achieve clarity about my future. Starting my own business was originally a daunting and stressful task whereas Coles support through the emotional aspects eventually made it inspiring, empowering and perfectly in alignment. Cole is motivating, supportive and has an endless supply of encouragement for my personal and professional endeavors. Again, I reccomend her without hesitation. It is an honor to work with her. Please, look no further. I wish you the best of luck on your journey with her - I know your life will be impacted for the better!

Tiffany Wilson
Cole has been excellent to work with. Her approach is logical and constructive while also retaining a sense and understanding of humanity. Cole listens, analyzes what you say, and helps provide a practical approach to achieving your goals. Her steady, guiding hand will help give you the opportunity to succeed!

Troy Hirschhorn
Having Cole as a life coach has been a joy. She is very attentive to all aspects of concerns, relationships, family matters, or just down right anything you throw at her. I couldn't ask for anything better, because she listens and soaks in what you say. But not only listening, she has the upmost care in how she relates life lessons, building up self confidence, and not afraid to confront the truth about any situation. I couldn't recommend anyone better!

Robby Goldsberry
The Smart Way To Find A Coach

1 Describe Your Goals

2 Get Matched

3 Free Consultations
Find My Ideal Coach Now