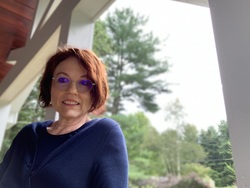 Colleen Simo

Mount Washington, Massachusetts
Health and Fitness Coach, Leadership Coach, Career Coach
NBHWC, PHR, RYT, MM
I help clients go from dreaming about their ideal health or career to living it. The way forward is easier with a guide in your corner helping you as you make it happen.
About Me
I am a firm believer that we wake up every day with a new chance to re-invent ourselves. I believe and will always believe that if we can dream it, we can do it... It's important to take this to heart, because when you quit dreaming or believing in those ideas, whatever they may be, you stop believing in yourself and nothing happens. I help clients believe in their dreams and to help as they manifest their brilliance and transform the dream into reality.
Facts about me:
I have a Masters Degree in Management, and over 30 years of experience in both small and large business. My husband and I owned a successful family business for 13 years, and for the last 18 years, I've worked in Human Resources at the most senior management level.
I did my coach training with one of the best programs in the US; Leadership that Works - Coaching for Transformation, at The Open Center in New York. I further honed my skills over the last 7years in my day job as an HR executive. Along the way I've helped staff get back on track, jumpstart, resuscitate or even change their careers. Privately I've supported people launch new businesses, create sanity in a busy life,figure out where to go to college, how to leave a job that doesn't cut it anymore, and even a few relationships.
I enjoy supporting senior management professionals, rising stars, entrepreneurs, small business owners, employees within a breath of getting fired that have no choice but to change, and all people who are struggling to meet the challenges of life on overload.

I believe that we all have the ability to make small changes and that these baby steps over time become meaningful shifts that radically alter the course of our l lives. I bring the skill and creativity necessary to every session to help my clients make this magic happen in their lives.
Ready take action? Click the orange button and take advantage of my complimentary discovery session!
Reviews
4 reviews (5.0)
"Colleen really helped me to talk through some of my ideas, and start to explore new paths. She was very supportive, and good at helping me to see things that I wasn't always able to see myself. I highly recommend Colleen as a life and career coach."

Laura D
Ms. Colleen is absolutely, amazing, Business Coach. She is always committed to assist every aspect of advisement to my question on running a business Brand and business development and leadership skills. Through her brilliant business experiences. I truly, appreciate every session working with Ms. Simo.

Yolanda N. Orlando, FL
I sought a life coach because I felt as if I was walking around in a circle for years and not getting anywhere. As a culturally diverse person, finding a good fit was important to me. When Colleen reached out to assist me I immediately knew she was the best fit because she effortlessly and immediately formed a trustful relationship so that I could comfortably share my thoughts and ideas. With Colleen there was no wall but instead just one vision - My vision. The problem solving approach and home work assignment caused the light bulb to turn on and I was able to find the right path I needed to be on for successful outcomes. Having an objective coach was very beneficial and while am not where I want to be as yet, the most important thing is that I found the path I need to be on in order to get where I need to be. Rarely do you come across someone who is talented at both big picture ideas and executing the small details — Colleen is just that person. I highly recommend Colleen as anyone's life coach. She would be an asset to anyone needing direction or needing to find the right path in life.

Shashauna R
Colleen, is unique in her approach, for many reasons, but one very important reason. She is genuine. Her ability to hold space for her clients is something I have not experienced before. She doesn't need to be "silent" as you are sharing, however thru her unique abilities she actually interacts with you, allowing you to feel "held" and brings you gently back around to the core issues. For someone who has a mind that races with thoughts, ideas, ways to approach things for others, but more often than not, can't advocate or apply those same skill's to themselves, Colleen is a "slam dunk". She holds you accountable, yet allows you to proceed at your own pace. She makes you feel safe and validated. But most importantly she is real.

Lacy, Assistant Administrator, Hudson, NY