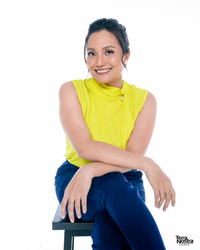 Cookie Laguda

Butuan City, Caraga
Christian Coach, Life Coach, Spirituality Coach
I come alongside those who are feeling lost, stuck or mentally and emotionally overwhelmed -- those who can no longer find their focus and have lost connection to their purpose.
About Me
Hello! I honor you and the journey that brought your here.
Are you feeling stuck? Lost? Just overwhelmed of everything that is going on in your life right now? You might already be feeling all the anxiety, the sadness, the loneliness, the guilt and maybe cycle it with the frustration, anger and bitterness towards it all. I completely understand how that feels. There's nothing else you'd like but to either get your focus, purpose and drive back OR you just want to escape from it all.
I call that the infinite insanity cycle. It's that space where we lose our sense of everything good and simply focus on feeling emotionally and mentally overwhelmed at the moment. It sucks! And it can last a long, long time. We can either escape it through various illusion of solutions or escape it with strategic intervention.
This is where my calling and work comes in. It all boils down to working with your unconscious to help you re-establish a sense of balance and self-reconciliation while you discover tools, lessons, equipping and resources as you break free from unconscious overwhelm by releasing anything from your mind that do not serve you well.
I have trained and become a US-Certified Integrative Health Coach from The Institute of Integrative Nutrition and thereafter became a master NLP practitioner trained under Dr. Steve G. Jones of the American Union of NLP. I have since evolved in my life coaching practice to become the mind-map strategist that I am today.
I come alongside clients to help them break free of their mental-emotional overwhelm which is usually a journey taken in the unconscious realm as it's the space where programs and energies that keep most people stuck are found. My unique approach to healing through your mind's unique map is what makes most of my clients say they feel "liberated or finally freed" after a short time working with me.
I would love to come alongside you on your overwhelm and help you get your life back. Please feel free to reach out to me!
Reviews
3 reviews (1 verified) (5.0)
Coach Cookie is beyond awesome. We were able to find the qualities that have been disturbing me and putting limitations how to enjoy life.

Ryan
I feel so blessed that I was given the privilege and opportunity to know coach cookie. She is so compassionate, and very understanding in every situation I shared to her. She helped me in many ways how to managed my emotions, worries, fears, anxiety, etc. She is always make sure to I am safe with her, and there is always confidentiality to whatever I shared to her about my life story, or even marriage struggles. I am confident how she handled me as well as my family. She built a good relationship inorder for us to feel comfortable and we are all confident that coach cookie is a very trusted person not just a coach but a friend. She has a beautiful heart and soul. We love u coach cookie .. May God bless u and use you for His glory ...

Tata Tan - Licup
Coach Cookie has helped me tremendously via her Neuro Linguistic Programming approach to reducing and ultimately, eliminating unnecessary worries and anxious thoughts. The NLP sessions helped me transform from having a constant fearful mindset to a stronger and resilient one. Coach Cookie is highly recommended and has become my healing mentor and friend.

Jenny Pangan