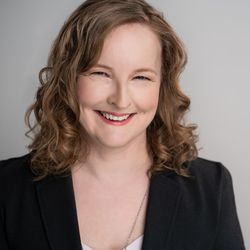 Corbet Fawcett

Waterloo, Ontario
Business Coach, Entrepreneurship Coach, Career Coach
PGCC (Professional Goal-Centric Coach)
Are you thinking of launching a new business? Trying to take your business to the next level? I help solopreneurs pursue success, create work they love, and grow with more confidence.
Details

Waterloo, Ontario N2L3S4

1-855-444-7726

Send Message
Visit Website
Hourly Rate: $125 to $150 US Dollars
Gender: Female
About Me
:::: NEW TO BUSINESS? ::::
I help new entrepreneurs turn turn dreams into thriving businesses. Whether you're launching a side hustle or going full-time with a startup or small biz, I offer coaching to help you launch with less struggle and a lot more confidence.
Coaching can help with:
* Choosing a viable business idea
* Developing your business plan
* Clarifying your value proposition
* Creating a launch plan
* Defining your marketing approach
* Staying motivated through challenges
* Developing a consistent social media presence
* Getting more comfortable with sales and networking
* Planning and prioritizing effectively
* Avoiding burnout
:::: ESTABLISHED ENTREPRENEUR? ::::
Been in business for a while, but struggling to take it to the next level? I work with experienced entrepreneurs to up their game.
Coaching can help with:
* Assessing business strengths and weaknesses
* Assessing _your_ strengths and weaknesses as owner or founder
* Strategic planning
* Exploring barriers and paths to increased revenue
* Identifying untapped resources
* Restoring focus and motivation to get back on track
* Creating clear, actionable plans
* Planning to restructure operations
* Identifying the stepping stones to scale your business
* Redefining your role as your business grows
But more than this, coaching can help you rediscover the 'why' behind your business. Together we can find your way from "daily grind" to "life purpose," and create a life that's more aligned with your goals, values, and needs.
:::: WORKING WITH ME ::::
Working with me always starts with a free 30-minute Q&A. This is a chance for us to understand your business and personal goals, and how coaching might help. It's also your chance to see if I'm the right coach for you. When you choose a coach it's critical to find someone you're comfortable with!
My style is gentle, supportive, and positive.
What change do you want for yourself and your business? Let's talk!
Reviews
3 reviews (2 verified) (5.0)
So far only 1 meeting completed, but I can feel the clarity and support beginning to take shape. Excited for our journey together!

Leon
When I started my coaching sessions, I was very skeptical but at the end of the first session I realized the value and impact of it on both myself and my business. Corbet is an amazing and compassionate individual who asks the right questions to direct you to where you want to go. Thank you, Corbet!

Nina Nasiri
I am beyond thrilled with my results after working with Corbet. She provides a warm approach that guides you, and allows you to develop a strategy that works for you and not a prescribed "have to do this" to start and/or grow your business. Some thoughts on the before and after impact to myself and my business in working with Corbet: Before: 1. Struggled to put on paper the vision in my head and articulate in a way that made sense to me. Like everyone starting a business, I had many moving pieces I needed to consider. 2. I did not know what I did not know outside of my own experience in my corporate roles and in speaking with other coaches and consultants regarding starting a coaching and consulting business. 3. I had a lot of personal variables impacting my timeline and approach. 4. I felt isolated in trying to figure it all out. My ask of Corbet was the following: 1. Help me to prioritize all of the things I had in my head. 2. Let me know of the things I do not know that I do not know that I need to be thinking about. 3. Help me to pull together a strategy that was the most efficient use of my time in regards to launching my business. 4. We have extremely transparent communication. I'm able to let her know if ANYTHING would impact my ability to complete a deliverable (to myself or her) which included changes in income/budget, time, priorities in my life in general, etc. and help me to update the strategy based on these changes. 5. Ensure that what I'm asking of myself is reasonable and that I'm not putting too much on my plate yet still make forward progress in a timeline that felt good for me. I.e. help me from startup burnout. After: 1. Corbet allowed me the space to share all of the items (business and personally related impacting the business). By having a collaborative brain dump the first session, we were able to see as a highly collaborative team what I was dealing with. From this vantage point, we were able to work together on what were the priorities on what I needed to establish in my business for my time and effort to be the most productive and efficient. 2. I would blatantly tell Corbet "this is all I know about this topic, what am I not considering that I should be right now?" She would provide me with great insights and food for thought which only gave me more confidence in the decisions I was making for my business. 3. My timeline and priorities changed multiple times throughout our work together. Corbet was compassionate and empathetic to my situation and excelled at helping me to recalibrate my strategy. As a result, I accomplished so much more than I would have if I were on my own. 4. In working with Corbet, she made me feel like I wasn't alone in my experience. I'd ask her if she's had other clients experience a mental or logistical roadblock like I was experiencing. She'd either share an anecdotal story (maintaining client confidentiality) of what other clients may have done to navigate, how she herself has addressed a similar situation, or was transparent to say she may have not seen the particular situation first-hand; yet still shared some advice that would be supportive. As a final result of my work with Corbet I ended up with the following: 1. A strategic plan for H2 of 2023 2. A fully developed and launched website (we didn't work on the details of creating and launching, she'd touchpoint on the status of it being completed, her accountability helped drive the project to completion). 3. Two budgets that showed me my table stakes and my blue sky vision for the next 6, months, 12 months, 18 months, and 2 to 5 years based on my life goals. 4. A strategy to meet those budget objectives within the given timelines 5. Metrics for the next 6 months I feel better prepared as I continue to work on more phases of the business during the initial start up phase. I cannot express enough the value I received in working with Corbet. Her experience in corporate as a user experience manager (something I said in our first session was one of my top priorities) along with coaching various business owners in different phases of their business from start up to growth shown in her approach, support, suggestions, resources she freely shared with me, and more. I will be recommending Corbet to anyone in my network who is looking for a business strategy coach. If you are in the process of searching for someone who can assist you in your business, I HIGHLY recommend Corbet. She is highly responsive in any requests, and works with your schedule and hers to find a time that works best for both parties. So do not hesitate to book a call with her to see how she may be able to support you today!

Lisa Goeke