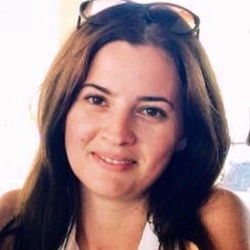 Cornelia Ina Bogatu

London, England
Career Coach, Executive Coach, Entrepreneurship Coach
You are considering significant transitions in your career, now or in the next few years. You might have creative interests, such as stories, visuals arts, acting.
Details

London, England N1 3QU
+447849395440
Send Message
Visit Website
Hourly Rate: £100 to £150 British Pounds
Gender: Female
About Me
I envision a world where every individual thrives in their lives and in their careers. Everybody has something that excites them. It's my job to help them find it and get it.
I coach people to plant creative seedlings that grow into large projects that both inspire them and have an impact on their community in weird and wonderful ways. I love it when people around me lose track of time while immersing themselves in their projects so I am constantly encouraging clients to keep going.
I study the latest research in creativity, positivity, decision-making, motivation, emotional intelligence and productivity in order to put them into action. I am an applied researcher of sorts and I am constantly tweaking and improving my client processes.
Reviews
2 reviews (5.0)
A good mentor-coach is the phrase that comes to mind when I think about Ina. I hadnt had the pleasure of working closely with Ina, but while working in the same location we supported each other to deliver outstanding customer experience to our customers. Later, with her help, I was able to recognize where I could improve myself. I was impressed with Inas ability to help me handle a difficult dilemma in my career and making it easy for me to find the right answers. Its like a gift she has. Ina is someone who leads by example and is always ready to share skills, knowledge and expertise. Ina would be the perfect coach to help you navigate your career, developing and helping you to succeed.

Raluca Strat
Ina stood me on me feet again after a long period 'out of the game'. Its easy to loose sight of your abilities after a career break. Ina helped me identify my strengths and achievements and together we developed a practical and realistic action plan to apply these to a new phase of my life.

Glyn, Masters student, London