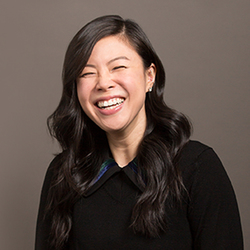 Crystal Wei

New York, New York
Life Coach, Career Coach
Accomplishment Coaching Graduate and Mentor Coach
What's in the way of your dreams? Is it you? Are you stuck on the spin cycle of self doubt and self judgement? I support women with confidence and self compassion, because it all starts from within.
About Me
Are you a people pleaser or perfectionist... afraid to let someone down, upset someone, or do it "wrong", so you just don't do it at all? Do you have a dream, but the thought that immediately follows that dream is... it will never happen, I can't do that, that's not possible, or HOW? Me too! At least I used to be.
Before becoming a life coach, I worked in the fashion industry for over ten years. Working in fashion when you have low self worth is a dangerous cocktail. I was scared all the time that my biggest fear of not being enough would be verified. I accumulated more things, went after bigger promotions, and looked for outside validation to temporarily feel worthy. However, every time I got to the goal post, I would just move it out further, I was on an endless chase for the next thing, going after means goals and not end goals. I ended up hiring a life coach, and she supported me in finding my way back to myself. It was through working on my relationship to myself that I discovered that my true passion was supporting other women in doing the same. I left the fashion world and enrolled in an intensive year long coach and leadership training program, Accomplishment Coaching. I have since graduated, and now mentor participants in the program.
I work with women who have a sneaking suspicion that they have more to give and more to live, and are ready to put down their self judgement and fear, and say "YES!" to themselves! I partner with my clients to support them with getting clear on what they truly want. Together we create action steps on how to get there. Throughout the process I support you with breaking through your fears, and gaining the confidence and self love to move past them, and towards the future of your dreams.
Clients who have worked with me shared that after going through my program they feel inspired and excited again about their lives. Imagine what would be possible if you believed what I know... that you are complete, whole, and perfect.
Reviews
6 reviews (1 verified) (5.0)
Crystal is a kind, warm hearted, engaging person who was very insightful regarding some of my mental barriers in my job search. She helped me gain a better perspective on my search and helped me with the nuts and bolts as well. I highly recommend her to someone that is really trying to piece together their next leg of their career or a new one all together.

ben berlin
When I started working with Crystal, I was feeling stagnant in my acting career and unfulfilled in my love relationship. I couldnt see a way forward. I felt limited by my finances and I felt a growing sense of despair and powerlessness. I was paralyzed when it came to taking action and indecisive about what action to take. The transformation I went through with Crystals guidance was profound. I became an action machine, clear on my values and more certain of what steps to take. Within months I got new headshots, a new reel, signed with new agents, and booked two theater roles, as well as my first TV role on Law and Order: SVU. I started a new side business teaching class at my acting school, I ended my previous relationship and, shortly after, began dating an incredible man who surpassed my dreams. Beyond these results, I gained a sense of clarity and an awareness of my own power. Crystal is a great combination of heart, humor, and wisdom. She showed me compassion and also pushed me past my resistance when I needed it. My life has absolutely blossomed and I cant thank Crystal enough for the metamorphosis. What a gift she is, and what a relief it is to finally live life fullyrealizing my potential and receiving what Ive always longed for.

Tricia Alexandro
Crystal is an INCREDIBLE life coach. She is able to leverage her wisdom (way beyond her years), her thought-provoking questions, and her commitment to accountability to drive meaningful change for her clients. Her deep kindness and care for her clients shows in the ways she listens closely and provides emotional support even in the toughest of times. I've done therapy in the past, and I've found Crystal's life coaching to work much more effectively for me as an action-based and solutions-oriented person. I would HIGHLY recommend Crystal!

Vanessa
Crystal is incredibly caring and invested in her clients. She has the remarkable quality of seeing beyond your narrative and gets to the root of your intentions. I come to her with scrambled emotions and worries and I always leave with clarity, validation and more respect for myself. I am truly grateful for her.

Kelly Dunn
Working with Crystal has been transformational. She truly listens and reflects back what she is hearing while asking pointed questions to get at the deeper level of what you need to work through to achieve your goals! She is organized and insightful. Highly recommend.

V
Crystal helps me experience life in ways I didn't think were possible. She supports me each week through the struggle of achieving my goals, and believes in me even when I don't. She is insightful, supportive, and finds patterns in my life that do not serve me and I didnt even know existed. Crystal helps me to see where changes need to be made, we work together to implement new, healthy patterns into my life, and then she supports me. I feel so good after each session, and honestly, like I can conquer any personal goal. She has helped with my anxiety and confidence and shown me how each negative thought affects other areas of my life. Crystal connects the dots. It is easy to get bogged down in the details of how I want to change unhealthy patterns, and Crystal swoops in to remind me that through all of this hard work, Im actually pretty great and have already accomplished so much. I cannot recommend Crystal enough. She is a natural at inspiring me and helping me to feel great every day.

Ashley Elich