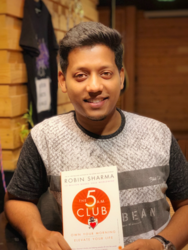 Cyril Prince

Bangalore, Karnataka
Life Coach, Performance Coach, Leadership Coach
EMCC Practitioner Coach , NLP Master Practitioner
I coach Millennials who feel a lack of motivation in their day-to-day work. I help my clients grow in their career while developing their leadership and communication skills.
About Me
- Are you seeking a promotion at work? Or start a business?
- Do you aim to make more money?
- Are you thinking of being organised in life? Or at work?
- Do you want to understand your self image?
- Or develop the confidence to stand-up for yourself?
When you reflect about your life at the moment, and find that you aren't satisfied with where you are, you might end up setting goals. And sometimes, it might be very difficult to create a roadmap to successfully accomplish certain goals. So those goals start to seem extremely arduous, or probably even impossible. At such times, it's important to have someone to talk to, who can listen to you without judgement, and ask you powerful questions to nudge you in the direction of unlocking your highest potential, to be there in your journey as you take that leap forward to live the life you deserve.
Allow me to be that person, who can listen to you, help you navigate through your beliefs, thoughts, emotions and desires, partner with you in creating an action plan, and hold you accountable to fulfil everything that you want to achieve in life.
I am Cyril, a Musician who discovered the power of Coaching and Neuro-linguistic Programming, which not only helped me get out from the state of feeling helpless in life, but I was able to find my purpose and meaning. And my purpose is to help other people reach for the stars they are shooting at, by allowing them to be who they are, and by being there to support them as a coach, partner, and confidante.
I have trained with Coach Transformation Academy using the ICF framework. I also am a Master Practitioner of NLP.
I write poetry and engage in conversations with passionate people about creative projects, travel, lifestyle and music.
If there is something within you that pushes you to work on yourself, don't ignore it. Take that leap. It will reward you manifold, in ways you may not have imagined.
So, are you ready to build your dream life? Book a free consultation with me, today!
Reviews
My two-hour session with Coach Cyril was self-empowering to a degree I did not expect from just two hours of conversation, reflection and guidance. My biggest takeaway was realising that a belief that I have may not be a belief that I need to reach my targeted-goal. Apart from listing specific action steps I need in my behaviour, environment, and skills to reach the place of fulfilment I am working towards, I understood that I needed to work on building my identity through positive affirmations every day. Coach Cyril patiently let me arrive at what I call little epiphanies and always took me to the root of the why, which is my purpose that stems from my value base. If youre someone who finds it difficult to organise your thoughts, or you know what you want but youre struggling to figure out how to get there or youre unclear about the why, I would highly recommend a few sessions with Coach Cyril.

Anmol