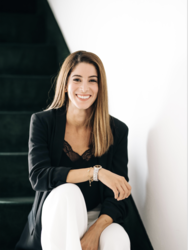 Leadership Coach, Career Coach, Life Coach
MA, Certified Professional Co-Active Coach, MA, International Education, BA, Communication Studies
I coach women entrepreneur ready to take action on their calling. I empower women to live a life they find inspiring by enabling self awareness so they move forward more confidently and purposefully.
About Me
You can love your life! Dalia is passionate about helping women reach their full potential and apply it to live the lives they actually want. With her background in education and training as well as business development, Dalia has designed, developed and led various programs and initiatives dedicated to developing others. This led her to find her true calling in life - coaching.

As a Certified Professional Co-Active Coach, an Associate Certified Coach and a member of the International Coach Federation, Dalia helps clients find more clarity, harmony and fulfillment in their lives. Through the implementation of tools from the co-active coaching model, her professional and personal experience, and the safe, comfortable and open environment she provides, clients are able to develop a deeper understanding of themselves, set goals and take the necessary steps to achieve their visions in life.
As a firm believer in creating impact, Dalia supports young and mid-career professionals to lead consciously and purposefully. She understands what if feels like to continually hit periods of burnout due to holding yourself to impossible standards and helps clients search within for solutions. This is done by focusing on what is in the present moment for the client and together unearthing limiting thoughts, beliefs and habits standing in the way. Through self-awareness, planning and taking action, clients are able to move forward more intentionally and swiftly in their lives.
Dalia works with clients that are ready to take ownership of their personal and professional growth. If you are ready to create transformation in your life, click the Request Free Consultation button below Dalia's picture to get started!
Reviews
4 reviews (5.0)
I did not know what to expect at the start of my life coaching sessions with Dalia. However, with every session, I was most impressed with the enlightenment she brought to my learned behaviours and the very simple exercises we did to change those behaviours to the better. Dalias style is easy, laid-back and sensitive; allowing for a calm and safe environment for breezily exploring ones most inner thoughts and unpacking them so that they may be tackled in a methodical but intelligent manner. The self-awareness and lightness I felt after every session with Dalia is something to behold and bask in. I now feel stronger, more accomplished and my career has taken a much more confident approach with immediate results. During everyday of my working life I can always hear Dalias voice, and her coaching tips, guiding me towards a more productive, fulfilling, accomplished and satisfying result!

Ziad
I had a wonderful coaching experience with Dalia. She focused my attention to my core values, goals, and what I consider to be my purpose. It was quite a journey where fears and doubts were faced head-on. Coaching with her has left me optimistic and shed clarity on how I would like to proceed.

Abdullah AlDalal
It was a great eye-opening experience working with Dalia where she helped me tap into deeper emotions and vulnerabilities I used to avoid facing. She created a comfortable and safe environment for me to express my deepest fears and challenged me to tackle them and face them head-on. She made me more self-aware about the things that were standing in the way of my growth and guided me in the elimination process. By teaching me methods to silent inner negative thoughts and fear of failure she fostered my strength and courage to surpass it. Such an amazing, open minded, and influential coach would recommend her for anyone looking to grow and willing to challenge themselves to unlock their higher potential.

Noura
To be honest at first i was very skeptical about life coaching at the beginning as I wasn't really sure what it entails or if it actually works. However, Dalia was kind enough to actually take the time to explain it all, what to expect, run a trial and then took me through the whole process step by step. She actually helped me work on a lot of aspects in my life that I never really knew had a huge impact on me and my day-to-day situations. Through all the coaching, she allowed me to identify my own limiting factors, those that negatively impact my life, my career, my relationships and has helped me walk through them and guided me as to how to work around it and eventually resolve it. I honestly didn't expect she could uncover this much through our talks but it has really really significantly helped me resolve many issues I've been struggling with and helped me work on myself towards becoming a better version of myself and excel in various aspects of my life. It was a wonderful experience and Im glad i did it and would definitely do it again; the best work you can do is to work on yourself.

Nermine F.
The Smart Way To Find A Coach

1 Describe Your Goals

2 Get Matched

3 Free Consultations
Find My Ideal Coach Now