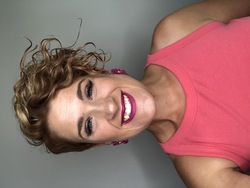 Relationship Coach, Spirituality Coach, Leadership Coach
Certified Coach My Miracles Coaching Program , Certified Hypnotist, Outlook Development Goal Setting System, Advanced Ho'oponopono Practitioner
I coach individuals and groups who are overwhelmed emotionally, feel stuck, and are left feeling unfulfilled in their daily lives. I help clients with mindset management, providing practical tools.
About Me
Are you ready to live the life you were born to love?
Have you been emotionally overwhelmed, stuck, and unhappy with your life circumstances? Before my transformation, my days were spent sleeping, emotionally eating, and numbing. I was never taught how to deal with the emotions of life and the trauma I experienced. I felt in my heart I was meant for something greater, but I didn't know how to achieve it. I didn't believe in myself or my dreams. When I was 23, I hit rock bottom. My emotions were so overwhelming that getting out of bed was a day to day accomplishment. As a mom of two young boys, I wanted to be a living example of something better for them.
So through a series of guided events, I landed in the personal development world and found a home in the tools. I learned that I am not the thoughts I think or the emotions I feel. I learned that thoughts and emotions create stories and stories can be rewritten. I dedicated my life to my own inner healing and to teaching others the tools. My coaching doesn't come from a space of concepts and ideas, but the real life applications of tools. Coming out on the other side, my life is more joy filled, fulfilling, and magical than I ever imagined. I can honestly say that I am more confident and at peace than ever have before. My passion and life's mission is to teach, uplift, and inspire others through my coaching so others can have the same experience that I did. I help individuals learn how to take the driver's seat of their emotions, stepping into inspired action and living the life they were born to love. During the process of coaching, you will learn to identify the stories playing out in your mind and keeping you stuck and emotionally overwhelmed. You will learn how to rewrite the new stories, aligning you to inspired action. This creates the reality and life you were born to love. I have coached individuals and groups worldwide for 11 years its my passion and joy to be working with you soon!
Reviews
7 reviews (5.0)
Dana is the best she knows exactly what do help you with in your relationship life and she is so easy to talk to. She's the best!!!

Shane Hammond
Dana has a heart of gold and it truly shows in ALL areas of her coaching. I have had several sessions with Dana and every single one transforms my life and helps me move forward into my highest sense of self. The last session I had was sacred. Dana helped me to embrace the parts of myself I was scared to love. Thank you Dana for your light, love, wisdom, and truth!

Amber Goodey
Dana... how do I even put this into words. This woman knows how to bring the lost light shining back into your soul. She is so compassionate and caring towards others that just makes you feel that extra gratification for who she is. Ever since I was introduced to her my life has changed in so many amazing ways. Shes helped clear distorted perceptions about my reality and about myself. If it wasnt for the relationship we have built, I wouldnt be the man I call myself today. Thank you for being you and always willing to help In anyway. HIGHLY RECOMMEND for any of your needs. With love, Bailey T.

Bailey Thurnau
Dana is such an amazing coach! She is easily the most uplifting and positive flowing person I know. It truly is a gift she possess, and I'm definitely seeing the benefits in working with her. I know that this coaching relationship is the key ingredient I've been missing for years, and I can see the mindset changes shifting and the results are happening. It's been exciting and so worth the financial and time investment. I've been recommending my friends to work with Dana. You'll love her!

Charlene Roberts
Since working with Dana, I have learned how to implement the necessary tools to meet my goals. Where other coaches have discussed complex ideas at length, Dana takes it a step further by teaching a concept or idea and giving me the tools apply it daily. This has created transformational change in my life.

Hannah
Dana has the most infectious, glowing energy of positivity and inspiration! Working with her has completely deepened my relationship with myself. Dana is a believer in leading through example and shares pieces of her transformational journey with her clients to show that the seemingly impossible is actually possible! Through our time coaching together, I have learned the value of being my true, authentic self and how much life starts to align when I am making decisions from a genuine space, as opposed to falling trap to old programming that does not feel right to me anymore. I would say my biggest take away from coaching with Dana is a massive sense of empowerment. She shone the light on my power that has always been within me and gave me practical tools to implement positive change in my life. I would highly recommend Dana as a coach to anyone who is ready to truly step into their innate power!

Alyssa
When I decided to step into coaching, I was at the end. Unemployment, financial problems and no housing in sight were burdens on my psyche that I didn't want to fight alone. Because I knew where it would lead and it was clear that I could not take another psychotherapy. Dana was one of the first people I talked to about coaching and I was very positively surprised. As a German, US-Americans are often perceived as professional, aloof and superficial. Coaching by phone makes this impression even worse. On the one hand, this is an advantage because you can talk about things in a very abstract way and feelings don't play a role at first. I also knew this from my job and knew what I was getting into. On the other hand, it is difficult to really talk about your deepest fears and worries, because the human aspect is missing. It lacks the empathy and familiarity to really get involved with a person. But with you it was different from the beginning. In a coaching with you I feel good and I don't think and don't filter what I say. I can trust you with everything because you really understand me and don't just give the impression. Within a short time, you manage to build up a relationship in which I feel comfortable. Your conversation is very professional and yet emphatic. I also find it so great that I can tell by your voice and breathing that you mean it honestly. This feeling alone helps me and it increases the energy that comes to me. A call with you is like an intense conversation with a very good wise friend. Tears, laughter, seriousness, depth, lightness, joy - all this makes for an awesome mixture with you. After a coaching with you I always feel uplifted, clear, positive and motivated. Sometimes I put myself in our conversations during the day and strengthen the feeling that I am there and then I can continue strengthened again

Nina