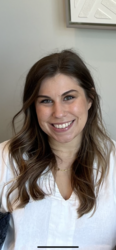 Dana Whiteaker

Palm City, Florida
Career Coach, Executive Coach, Performance Coach
Certified Emotional Intelligence Trainer, SHRM-CP
I work with female professionals to get ahead in their careers using emotional intelligence tools. My passion is to help you become a confident, decisive, and empathetic leader in your life.
About Me
Hi, I'm Dana!
I know how hard it can be to want to get ahead in your career and your personal life but you keep getting in your own way. 10 years ago I began developing my emotional intelligence because I knew I was smart, capable and had the potential to thrive if only I had the guidance of a coach or mentor.
As a driven HR Professional, I could also see how the people who were thriving displayed high levels of emotional intelligence. I returned to school to obtain my Masters in Management, Strategy and Leadership but I still had the itch to keep learning.
My biggest breakthrough came when I was introduced to the EQ-i 2.0 Assessment and I finally had the clarity to see how I was showing up in the world and what I needed to do to in order to grow.
Within 2 months of taking the assessment:
- I became a certified EQ-i trainer
- Launched my own business
- Created deeper, meaningful friendships
- Reduced the lag time between letting emotions holding me back from making decisions
- Brought back the spark and desire to lead my most fulfilling life
You CAN get to live the life you've always wanted and find fulfillment in your career.
Emotional Intelligence is the key to creating a fulfilling, happy life. The power is already inside of you to be the best you. Don't let life pass you by.
YOU are worthy of your deepest desires.
With the EQ-i Assessment and personalized development plans, we will get you to where you want to be.
Reviews
Dana is extremely well versed at guiding someone to align their actions with what they want out of their career. If it's growth and leadership that you want in your career - Dana will help you get there faster. She helped me see what was most important to me, then translated that into what jobs I looked for, what jobs I applied for and I put more effort into digging deeper to find the position that I actually wanted. She has also incorporated more emotional intelligence training into her guidance recently and that has supported me in validating my strengths and understanding in where I need more practice as a leader. Thank you Dana for all of your insights!

Raechelle