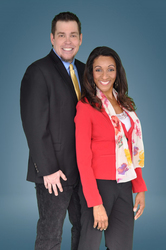 Dana and Michael Medlin

Tampa, Florida
Performance Coach, Life Coach, Relationship Coach
ABA Certification, OBM Certification
We work with individuals to identify, analyze, and overcome obstacles to maximize growth and personal performance. We work to eliminate unwanted behaviors while developing healthy coping mechanisms.
About Me
Our individual clients appreciate our holistic approach. We provide action steps that empower our clients to move towards their goals of work-life balance, self-care, stress management, managing life transitions, etc. With action based coaching, progress begins on day 1.
Our business clients recognize the importance of improving productivity and efficiency, developing a culture built upon proper motivation and positive reinforcement. They gain higher employee and customer satisfaction and loyalty.
Dana – Certified Life and Wellness Coach, Performance Strategist and Personal Development Specialist, Entrepreneur and Radio Show Host. Over 20 years of experience bringing transformative strategies to such companies as Walt Disney World, Robert Half International, iHeart Radio, KB Home and Ideal Image MedSpa.
"I've experienced amazing successes in my life along with my fair share of failures! Through it all, my own pursuit of Personal Development is how I've survived and thrived through every tragic storm in my life. If I can do it, anyone can. I had help along the way and now my soul desire is to help inspire others to greatness."
Michael – Certified Coach, Behavior Specialist and Certified Instructor. Extensive experience in Performance Management, Marriage and Relationship coaching and Behavior Modification. He holds Degrees in Business, Education and Post graduate certifications in Applied Behavioral Analysis, Organizational Behavioral Management and Life Coaching.
"I'm addicted to the break through, the "Ah-ha" moments, and the "I didn't know my life could be like this" epiphanies that our clients experience."
Reviews
Dana and Michael doesn't have any reviews yet.