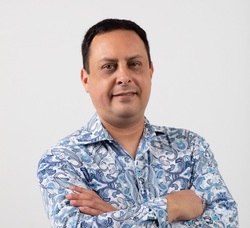 Daniel Rosenstein

Fort Lauderdale, Florida
Performance Coach, Life Coach, Career Coach
If you're here, you're an ideal client - anyone taking a step towards self-improvement is welcome: those seeking healing of past trauma, procrastination, reduce anxiety, or need business/career advice
Details

Fort Lauderdale, Florida 33314

9548575753

Send Message
Visit Website
Hourly Rate: $150 to $200 US Dollars
Gender: Male
About Me
Suffering abuse and trauma in my past, I was motivated to heal myself. This led to learning alternative modalities such as Reiki, angel healing, pranic healing, and emotion code, plus studying coaching with Mindvalley and Landmark Education.
It's been over 15 years since I guided the first of many clients through alternative healing to help overcome trauma, low motivation, and unclear life direction.
With two decades of education, practice, and self-development, I have a holistic view of assisting others evolve. My clients break from the tethers that hold them back through healing, motivation, and habit changes.
I work with all clients, but I find there are 4 types I work with most:
1- People who need help getting beyond abuse or trauma. My advanced techniques can help people move forward in life
2- Clients starting a business or have one but need marketing or business help. With 15 years of online digital marketing experience in small and large businesses, I provide marketing strategies, time management, & organizational consulting
3- People who need help with motivation or procrastination. I utilize multiple tools to gain mental clarity after my own past as a procrastinator
4- People who need career advice. After five career changes, I can share my own experiences and give people tips to find the right career path
Having overcome motivation issues, lack of accountability, and a foggy mind, I understand the struggles my clients face, and how difficult it is to overcome. It is only with resources and guidance these walls can be scaled.
My passion is to help you overcome past trauma and barriers - the experiences I gain with each client help the next, and I am a lifelong learner.
Dedication, trust, and communication are important in coaching and are my core values. All people deserve a chance at achieving their highest selves.
You're not alone in your endeavors. Set up a consultation and let's talk about where you'd like to be - no doubt we can get you there!
Reviews
6 reviews (5.0)
Words can't describe the experience. Daniel is an amazing healer with a beautiful array of offerings. I can feel a big energy shift after my healing session with him. What a blessing and divine angel Daniel is. I'm thrilled to work with him in my journey towards being best version of myself. Namaste.

Luxi
Daniel is one of the most gifted and thorough healers that I have had the pleasure of going to. I have been going to him for trauma healing sessions for a month now, and I have witnessed a profoundly positive change in how I think, how I live day to day, how I process events,and how I perceive people reacting towards me. I am blossoming mentally, spiritually, and emotionally thanks to Daniel!

Brittanie
Daniel is one of the most powerful healers I've met. He's incredibly humble and so genuine which I appreciate. I have done various sessions with him including Sekhem Energy Healing, Soul Retrieval, Pranic Healing, Manifesting All Possibilities brain rewiring (MAP), and I look forward to trying Star Magic & other wizardly tools he has under his belt. I always feeling absolute Peace within after working with him. He's great!

Masooma T.
I have had multiple MAP sessions with Daniel Rosenstein and found myself making some incredible shifts. It has been a pleasure working with Daniel. I had a session with Daniel that tapped straight into the core of a problem I was having with absolute precision. Daniel went above and beyond to help me identify and clear a self sabotaging occurrence I was repeating that seem to transcend my understanding. I truly appreciate the insights I have gotten from our sessions.

AE
What I experience in the session with David was amazing. He is very intuitive he could sense the energy while working on me , that made me feel connected and secured knowing he was really working on the issue, and the most part he was not being rushed by the clock like I had with other healers , I felt validated, he was there for me to listen to anything I was saying . Very attentive I felt the work being done immediately Very powerful techniques. I definitely do more sessions if needed. Thanks Daniel and God bless .

Reina GR
My MAP coaching and energy healing session with Daniel was incredibly powerful. From the moment we started, I felt a deep sense of trust in him as a practitioner. He used various modalities with ease and confidence, including guiding me to make a new soul decision, which was new to me and very empowering. I went from feeling doubtful and fearful about aspects of my business to feeling eager and excited to take action. I also appreciated that Daniel checked in with me the next day to see how I was doing. I wouldn't hesitate to book another session with Daniel, or to recommend him. I easily give him and the session 5 stars.

JS