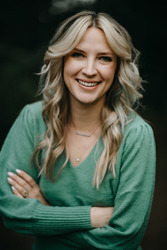 Danielle Bierema

Seattle, Washington
Life Coach, Relationship Coach, Career Coach
BS
I help millennials move from the life they've been told they should live to the life they want to live. To wake up and face each day with enthusiasm and zest.
About Me
I am a Certified Applied Positive Psychology Life Coach. Using the strength-based science of Positive Psychology, we will uncover your innate strengths and create the life you want to live.
This method can be applied to all facets of your life, but my particular passions are helping you with the purpose and meaning of your life, developing positive relationships, finding an aligned career, and managing stress.
Does this sound like you?
- You followed the traditional, high school, college, job pipeline
- You've been in your career for 5-10 years
- You wake up every morning with only a sense of obligation
- Your job is totally unfulfilling
- You're not sure where to find fulfillment though
- You struggle to keep up with getting to the gym, or eat well
How would it feel instead to:
- Wake up excited to face your day
- Have a clear idea of what your goals are
- Use your strengths to achieve them
- Know where you are headed in life
- Be completely aligned with your purpose
- Create a positive momentum that affects every facet of your life
I was in that place just a few years ago, and it was working with a coach that helped me turn it around and inspired me to help others do the same.
Together we will examine every area of your life and create the roadmap to lead you to your ideal life.
Some of the things we will address:
- How do you want to feel?
- What are the patterns we need to disrupt?
- What habits can we create that will have the most benefit?
- Are you getting enough sleep, exercise, and proper nutrition?
If you're ready to turn over a new leaf please reach out! Your first call is free!
Reviews
2 reviews (5.0)
Danielle is a very versatile coach who matches the style of the coachee with ease. She asks the right questions at the right time to provide the opportunity for coachee to find their own answers. I would highly recommend Danielle as a coach.

Dan Murphy
Danielle was incredible at hearing my needs and providing me with direction and methods to improve my habits and satisfaction with life. He guidance has really helped me find a way to live a much more authentic and fulfilling version of my life that I have always wanted. Strong recommend to anyone thinking about her services!

Kevin