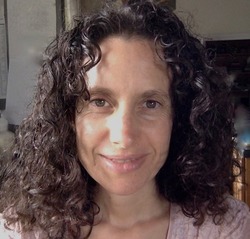 Danielle Loesch

Seattle, Washington
Life Coach, Relationship Coach, Spirituality Coach
C-IGSC (Internal Guidance System Coach), (C-RS) Rubenfeld Synergist (somatic therapist), RYT (Svaroopa yoga teacher/therapist)
Danielle helps busy women transform anxiety and overwhelm into confidence, joy, and peace by connecting them to their own inner guidance.
Details

Seattle, Washington 98105
Hourly Rate: $50 to $75 US Dollars
Gender: Female
About Me
People find me who have reached their limit with overwhelm, scheduling fatigue & indecision anxiety and are ready for RELIEF. I help them tune into their own inner insight to overcome their obstacles in a fun and easy way. Phewie!
I discovered my Internal Guidance System during a time of turmoil after leaving a spiritual community. My world was upside down, and I was having panic attacks. Connecting to my inner guidance in such a concrete and reliable way allowed me to finally overcome debilitating levels of indecision, anxiety and self-doubt. I love supporting people with these issues so they can learn to trust themselves again—especially those in helping roles or professions who have trouble prioritizing self-care, and those facing chronic health challenges.
My work is informed by my extensive training in somatic therapies and the mind-body connection, as well as my own personal journey of deep exploration into the reality that our body knows the truth and is our ally if we can learn to listen – and we can!
- Certified Internal Guidance System coach
- Certified Alexander Technique teacher
- Certified Rubenfeld Synergist (somatic psychology: blend of bodywork and talk therapy)
- Certified Svaroopa Yoga Embodyment Therapist and teacher
- Extensive training in the Feldenkrais Method, Anat Baniel Method, and the Alexander Technique
- Member, US Association of Body Psychotherapists
- Member, Yoga Alliance
Reviews
6 reviews (5.0)
Danielle is a caring, intuitive coach with a true dedication to help her clients. With compassion and insight she can help you get to the crux of the matter in a very gentle, freeing manner. She is patient and has helped me with her astute observations, humor, caring, and wisdom. Learning about my Internal Guidance System has been a freeing, joyous experience. I wholeheartedly recommend her services. She will help you break through to a happier life with less stress. 

Dana
Danielle helped me to gain clarity about some issues in both my personal and professional lives. As a certified coach myself, I have had a lot of experience both being coached and coaching others, so I hold a high standard when I hire someone to coach me. Danielle did not disappoint! She is thoughtful, enthusiastic, a great listener, and an expert in using the Internal Guidance System (IGS). Danielle created a safe space for me to explore my concerns in detail and helped me to connect with my own IGS. I walked away from my coaching sessions with Danielle with greater clarity and confidence and with a greater ability to access my IGS independently. I highly recommend coaching sessions with Danielle!

Megan
Danielle has a deep, empathic and calm presence which allowed me to follow her words of guidance toward sensing my own inner wisdom. She enabled me to sense feelings within my body I had not noticed before and with this awareness I am now able to direct my life in ways that are so much more empowering. Knowing when you are open or closed to a situation is so helpful and her knowledge around the work of your Internal Guidance System is vast. If you want to become more connected to this magical system then Danielle is the perfect coach to bring you into alignment. Thank you Danielle. Namaste.

Janet Melody
Working with Danielle brings me a clarity about being able to tune into my Internal Guidance System (IGS) that Im not yet able to find by myself with certainty yet. She has such a light touch but invariably helps me get to the heart of the matter within a few minutes. I feel such a refreshing sense of peace and calm when Im able to really hear what my IGS is telling me its priceless. Im based in New Zealand and so our sessions have been online, which has made it simple and easy for me to access Danielles skill and expertise. Id highly recommend working with Danielle Loesch she has really helped me get the most out of this process.

Helen
I have been a client of Danielle and would highly recommend her. She is caring, wise and gentle and teaches a powerful process that clears away stress and blocks and empowers you by helping you connect to your own inner guidance. She has been invaluable in helping me and her help has made things much easier in my life. She is a top level coach and therapist!

Jolene Bagby
I highly recommend Internal Guidance System (IGS) Coaching with Danielle. Dani is an exquisite listener. She has helped me hear, understand and let go of habitual thoughts (and actions) that are harmful to my health and wellbeing. With well timed humor and compassion, she has helped me move past lifelong struggles and to understand the types of themes from my personal history that trigger defense. In coaching sessions, you learn how to discern between the strong emotions and spinning thoughts which create anxiety and confusion, and your calm inner knowing.. The result is that you begin to build self-trust. This has allowed me to make important life decisions with much less anxiety. I am amazed at the improvement in the quality of my life, both from the standpoint of inner peace and external achievement.

Elyse Shafarman
The Smart Way To Find A Coach

1 Describe Your Goals

2 Get Matched

3 Free Consultations
Find My Ideal Coach Now