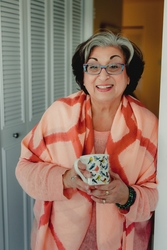 Danielle Silverman

Montreal, Quebec
Career Coach, Business Coach, Life Coach
CRP (Certified Reinvention Professional)
I work with individuals who are unhappy in their job and/or would like to do something that has meaning or purpose, more in line with who they are.
About Me
Hi! I'm Danielle. When I was 15, I told my Dad I wanted to be a doctor. He didn't think I could succeed, so I set out to prove him wrong. Turns out he was right.
It took many, many years of searching, thinking, trying, and sometimes failing to figure out what I was meant to do. When I became a career coach, I thought, that's it! I've found my calling, to help people transition from one job to the other. I loved helping people through this difficult time in their lives. But I discovered something very important in the process. The majority of people I was helping were unhappy in their jobs at the time they were let go. And I realized this had been the case for me too.
What if finding another job isn't the answer? What if what you truly need is to figure out what would make you happy? What if the work you do corresponds to who you are? I had very little help figuring out what I ultimately wanted to become and I don't want that to happen to you. So today, I work with people who want to figure out their WHY. And that starts with WHO you are.
I firmly believe that in today's volatile and uncertain world, we all need to embrace a reinvention mindset, which simply means remaining open and curious about change and the opportunities it provides. Remaining alive and thriving, doing something we love, finding purpose in what we do, and doing WHO we are is what I wish for everyone.
Is it time for Reinventing-U?
I'm a certified coach with the International Coaching Federation (ICF) and a member of the Canadian Association of Professional Speakers (CAPS). As a Certified Reinvention Professional, I talk about how to reinvent your career and what it means to reinvent as we get older.
I have a bachelor's in Life Sciences from Queen's University, as well as an MBA and a master's in human systems intervention from Concordia University.
I recently started a radio show called Reinventing-U on Transformation Talk Radio.
I live in Montreal Canada with my dog Theo
Reviews
Danielle doesn't have any reviews yet.