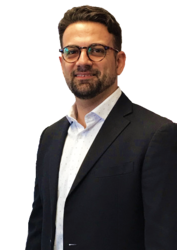 Danny Buccilli

Pratola Peligna, Abruzzi
Life Coach, Business Coach, Leadership Coach
EQ Assessor, Voice Dialogue Facilitator
I'm a self-leadership coach and I can help you reconnect with your purpose and passions through the discovery of your hidden talents and the development of your EQ.
About Me
Are you a professional struggling to find a balance between private life and work? Do you see yourself juggling many things at the same time and having a hard time setting priorities?
Has this ever had repercussions on your relationships and caused any emotional distress?
Listening to your emotions and channeling them towards your noble goal might help you see things more clearly. I am a Self-leadership coach, emotional intelligence assessor and I am also expert in the Voice Dialogue facilitation technique, which is a very powerful tool to support you in your inner discovery journey, thus helping you unleash your inner resources. I will walk with you in your personal discovery path and support you on the way with creativity and challenges. Intuition, sensitivity, active listening mixed up with a good dose of pragmatism is what I have to offer you.
Behind me I have a decade of business experience, having held managerial roles in the marketing area of several multinational consumer goods companies in Italy and abroad. I am also the co-founder of small online businesses in the field of e-commerce and the teaching of foreign languages.
My mission is to foster the discovery of our selves as inexhaustible engines of energy. I believe that Coaching can bring out our personal talents and help us discover the best version of ourselves.
Reviews
6 reviews (1 verified) (5.0)
I'm happy and feel better now, I was overwhelmed, Danny helped me to drive my objectives in the right place to me and he is very professional to understand things by asking the good questions and understanding the different sides of character. Thank you so much Danny.

Reham
Danny is an amazing life coach, he is very professional and emphatic. My coach journey with him really helped me to move forward by learning tactics/tools that I can now use and apply in any life/ work situation. He can truly help anyone to gain clarity and make great change! I would definitely have Danny as my life coach again. Thanks Danny!

Carla C.
Its rare that you come across standout talent like Danny Buccilli, but I did when I had the pleasure of taking his sessions. I must say they certainly lived up to my expectations. I was particularly impressed by Dannys ability to develop an instant rapport with me and how he managed to help me clarify my goals, identify my obstacles and how to overcome them. His sessions have made a dramatic difference in my performance at work and in my personal life due to the confidence I gained with him. Anyone would be lucky to have Danny as their life and business coach.

Leonardo Pugliese
I had the pleasure to work with Danny over the last few months. He is a great professional and he had the ability to drive me towards my objectives by doing the right question at the right time. you never feel uncomfortable, he helps you to reflect about yourself and your role in every single moment of your journey, at work, at home, while interacting with your peers, friends or anyone else. He has been able to provide a valuable contribution for my professional and private life. I feel now to be more aware of my strengths and limits as well, and I feel confident Ive the right instruments to address them in the proper way.

Micol Iuculano
I have had the chance to participate in coaching sessions with Danny. Danny is an outstanding professional with multiple talents; he has got a unique interpersonal and business acumen combined with an attention to detail, a dedication to the conversation, and a commitment to add value. He has been instrumental in getting out of my flaws, he has been able to make me think out of my comfort zone and with his guidance and structured approach, I have been able to realign my personal and professional life. He is very professional, strict and realistic and warm and highly positive at the same time. Im glad hes doing this journey with me.

Serena Stifani
I had the opportunity to have Danny as life coach and it had been one of the best choices in my life. Danny has been the right person at the right moment. Thanks to him I could achieve my objectives and see things from a different prospective that I wasn't considering. He has the gift to read between the lines and bring out the best of you. He accompanied me along the path giving me the tools to discover and have a deep look in my inner self. I totally recommend him for his gentle and caring manner.

Paola