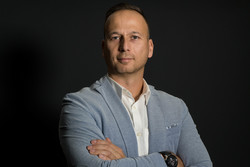 Danny Jovanovic

Montreal, Quebec
Life Coach, Business Coach, Executive Coach
Men don't become highly successful by accident. I am known as "The Success Strategist For Men in Life and Business".
About Me
I'M ALLERGIC TO "AVERAGE" AND I SUSPECT YOU ARE TOO.
I believe that you have one shot at this life so you might as well aim for an extraordinary one.
As men, we feel the pressure to perform, provide, and succeed. But you're never given the chance to stop for a moment to figure things out or put a game-plan together for your life. And the pressures are coming at you from everywhere. Girlfriends/wives, co-workers/career, parents/kids, money and health problems... it seems like everyone needs you, and you can never get ahead.
I get it.
Nothing feels worse to a man than feeling like he is not living and feeling his best! ​It's time for you to start living an incredible life.
I am known as "The Success Strategist For Men In Life and Business". I coach men how to transform themselves, their incomes and lives. For me, success doesn't flow from outside to inside; it moves from inside to out. My clients seek me as their coach when they want to move past STUCK and HOPELESSNESS to experience true HAPPINESS, SUCCESS, and FULFILLMENT.
My personal mission is to help men grow their life and businesses massively, increase their personal fulfillment in life and improve their relationships with their wife and kids.
I do it by giving you the tools, skills, intelligence and systems to remove your roadblocks and bottlenecks so you can focus on growing your income and enhancing your life versus spinning your wheels on the never ending hamster wheel.
My Rules:
1. Life is short. We must live in the now and live each day purposefully.
2. Taking risks and stepping out of your comfort zone is essential for
growth. A life without risk is no life at all.
3. Finding and living your life's purpose is every man's mission in life.
4. Love yourself and be your authentic self 100% of the time. Hold
nothing back.
5. Knowledge is not power, applied knowledge is where true power is
found.
Reviews
Danny doesn't have any reviews yet.