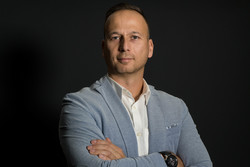 Danny Jovanovic

Montreal, Quebec
Leadership Coach, Business Coach, Executive Coach
I help high achievers, business leaders and seasoned professionals align their priorities with their true purpose so they can achieve the highest level of personal growth, impact and freedom.
About Me
Throughout my career I've always sought to inspire individuals and businesses to reject mediocrity and reach for greatness. Clients come to me because they're stuck. Regardless of what's holding them back, they want to get better results and break through to new levels of Legacy, Impact, Freedom and Success.
I enroll my clients by coaching them, it really is as simple as that. Our time together will be a completely bespoke, deep coaching experience. I am often the only person in my client's world who is not here to please them. I won't sugar coat it and won't let my clients fears hold them back. I promise I won't buy into their "stories", I tell my clients how it is. I'll say what no one else in their world is bold enough to say. I filter for clients with a bias for action — so it will be their mission to turn our coaching experience into a powerful action in the world. And I'll do it all from an authentic and vulnerable place.
When it comes to business, I have one primary passion: to help entrepreneurs recognize and achieve their potential. I provide clients with powerful tools and valuable coaching to streamline their path to success. And I help my clients build their businesses into the kinds of organizations that far exceed their expectations.
When it comes to personal coaching, I'm an intense and passionate person, and I love working with passionate people. I love seeing the intensity in their eyes! I've worked with those who've faced tremendous personal obstacles and those who've dared to dream BIG.
Reviews
Danny doesn't have any reviews yet.