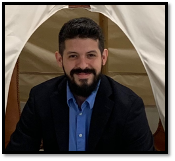 David Davila

Frisco, Texas
Executive Coach, Leadership Coach, Team Coach
BA, MS, PhD, Board Certified Coach, Marshall Goldsmith 100 Coach
Hello, my name is David and I help good people become great leaders through the application of practices that reduce suffering and create a more positive, humanity-centric impact.
About Me
Hello, my name is David. I am a board-certified coach with Postgraduate degrees in Leadership and a member of Marshall Goldsmith's 100 Coaches. This background is paired with meditative traditions I've studied for over 20 years. I've worked with over 30,000 people in this capacity for over a decade, mostly within the Fortune 500.
Most individuals we work with are already successful; they have good ideas and make good efforts...yet still fall short of their vision. They are constrained by past circumstances or environmental factors. They find themselves feeling inauthentic, become frustrated, and struggle to bring people along. Yet still, there is a greater future for them...they just need some help to create that future.
​
By bringing attention to what is and what is not, we are released from a state of wants and perceived needs, to one of choice. By dissolving the prejudices and preferences that pervade our minds, we are released from a state of agitation to one of equanimity.
What are you like at your best? Change is hard. It's not sexy. The past lingers, the present is ever-evolving, and the future remains uncertain. Yet, with a little help and clarity, we can create something better than we ever imagined. To realize we are something better than we ever imagined. If you're looking for a motivational pep talk or the next flavor-of-the-week in "self-help", this is probably not for you.
Reviews
David doesn't have any reviews yet.